Bon Secours isn't your typical health care system. Sure, we offer medical treatment and services as you'd expect. However, our organization is deeply rooted in our mission of extending the compassionate ministry of Jesus through improving the health and well-being of our communities. The commitment of every one of our team members results in the outstanding care that can truly change the lives of our patients.
Edward H. Stall experienced this life-changing, compassionate care while a patient at Bon Secours St. Francis Health System. As a result, he became a long-time supporter of our ministry, serving on our board and becoming a key fundraiser for several of our most impactful projects.
After losing a battle with cancer, Edward's friends and family decided to also embrace the Bon Secours mission by creating the Edward H. Stall Compassionate Care Award.
"It's an opportunity to recognize St. Francis employees whose generosity empowers the mission of the Bon Secours St. Francis Health System," shares Erik Whaley, President of the St. Francis Foundation. "We're so blessed to have the support of benefactors such as the Stall Family. It is an outstanding way to honor those deserving employees."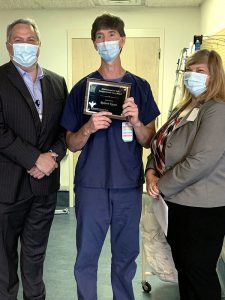 This year marks the 25th year of the award, which recognizes a Bon Secours St. Francis team member who is "good help to those in need" and goes the extra mile providing that "St. Francis touch." During COVID-19, a time when health care is in more demand than ever, the Stall family decided to donate additional funds so St. Francis could recognize two deserving winners, rather than just one.
The first, Robert "Bob" Keyes (pictured right), was chosen based on a nomination form submitted by his co-worker. He works in the physical therapy department on the inpatient rehab unit at Bon Secours St. Francis Downtown.
The nomination form says Bob "goes the extra mile for all his patients" by helping them look online for a better deal on equipment than what the insurance company will often provide. When equipment is still unaffordable, "he has been known to get it out of his own pocket." The co-worker also praised Bob's commitment to his teammates, always lending a helping hand when needed.
Upon receiving the award, Keyes seemed very surprised, yet grateful. He shares he gets more enjoyment out of helping others than treating himself, so he plans to use the monetary prize to help pay off his son's car loan.
Sheri Wingo, an LPN at Bon Secours Family Practice Associates of Easley, is this year's second recipient. Her nomination came from a group of her co-workers, including one of the physicians on staff (pictured above). They all note that day in and day out, Sheri "comes to work with a positive attitude on a mission to improve the care of our patients." They often find that she is a source of comfort and reassurance for both her co-workers and their patients, "providing the warm encouragement to those needing it at that moment."
Both Bob and Sheri received a check for $1,000 as a show of gratitude for their efforts to go above and beyond for their patients.
Read more stories about our amazing Bon Secours employees who go above and beyond each day.