Bon Secours St. Francis Health System is now using ultraviolet (UV) light robots to kill SARS-CoV-2, the virus that causes COVID-19. We are proud to be the first health system in Greenville, SC, to use Xenex LightStrike Germ-Zapping Robots™.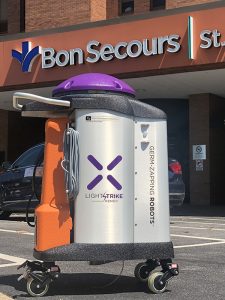 The first two robots were deployed in early June, one at St. Francis Downtown and another at St. Francis Eastside. They use pulsed xenon, which is an environmentally friendly gas, to create intense bursts of UV light. These bursts of light quickly destroy bacteria, viruses, mold, fungus and spores on hospital surfaces.
The robot also works quickly. Each unit can disinfect a typical patient or procedure room in just 10 to 15 minutes without warm-up or cool-down time. This means each robot can disinfect around dozens of rooms a day.
"Our goal is to provide the safest possible healing environment for our patients," shares Matt Caldwell, Bon Secours St. Francis Health System President. "We are very excited about adding these robots to our already comprehensive infection prevention program."
Operated by the hospital cleaning staff, these robots can be used in any department and on any unit within a health care facility. This includes isolation rooms, operating rooms, general patient care rooms, contact precaution areas, emergency rooms, restrooms and public spaces.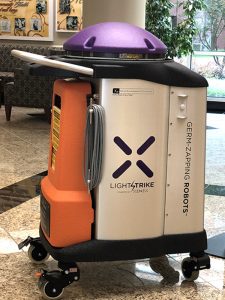 The robot is part of the environmental services team and does not replace any employees. First the room must be cleaned, all visible dirt and fluids removed, trash emptied, and linens removed. Once the room has been manually cleaned, the robot is brought in by a team member and destroys microorganisms that may have been missed during the normal cleaning process. Simply put, the robot destroys deadly pathogens the naked eye can't see.
Recognizing superbugs and microorganisms are becoming increasingly resistant to cleaning chemicals, antibiotics and even some hand sanitizers, Bon Secours is proud to join other hospitals in turning to this new technology. These robots have been a great way to enhance our existing infection control practices and reduce the risk of health care associated infections.
Stay updated on what Bon Secours is doing related to COVID-19.