For those looking for long-term, surgical weight loss solutions, our bariatrics program at Bon Secours St. Mary's Hospital is offering two new procedures: the Sadi and the Duodenal Switch.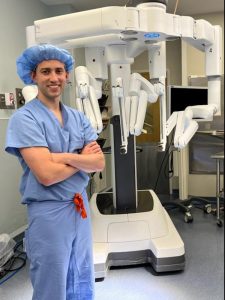 Both of these procedures are now being offered by Craig Robert Smith, MD, (pictured above, right and in copy) and Nathan William Lee, MD, (pictured above, left), two of our bariatric surgeons with Bon Secours Surgical Specialists.
"Robotic surgery has allowed us to perform much more complicated bariatric surgeries while remaining minimally invasive," Dr. Smith shares. "It also allows for better visualization and dexterity, allowing for new techniques that continue to revolutionize the field of surgery."
Dr. Smith also adds that he pursued a career in medicine because he enjoys "being able to give patients their quality of life back and provide them with a long term, immediate solution to their condition."
And with these new procedures, he is able to do just that.
We spoke with Dr. Smith to learn more about these two surgical weight loss procedures, the Sadi and the Duodenal Switch, as well as what patients can expect.
What are the Sadi and the Duodenal Switch procedures?
Dr. Smith: Both the Sadi procedure and the Duodenal Switch procedure allow for better long-term weight loss and more overall weight loss, while also combating comorbid conditions in a way that the sleeve and bypass are unable to do. Both procedures can also be done for weight regaining after a previous gastric sleeve.
Who would benefit from having these procedures?
Dr. Smith: Any patient with a BMI greater than 35 with comorbid conditions along with having no history of GERD are candidates for these procedures.
What can patients expect recovery to be like?
Dr. Smith: With a robot, these procedures allow for quick recovery and long-term weight loss success that is superior to the gastric sleeve and gastric bypass. Recovery is typically two days in the hospital and then a six-week diet progression, as is standard for all bariatric procedures.
Learn more about the surgical weight loss services offered specifically at Bon Secours St. Mary's Hospital as well as all our weight loss solution services.