Every quarter, our Richmond leadership team gathers to connect and review the prior quarter. At these meetings, Faraaz Yousuf, our Richmond market president, also makes a point to have an activity that pulls the team out of their comfort zone.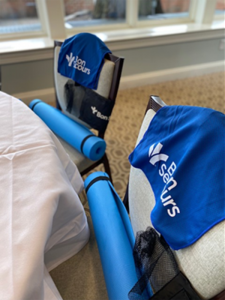 After becoming a new leader in 2019, Faraaz quickly identified the strength of our ministry's culture as the secret to overall success.
"Developing relationships and team building are foundational to the development of culture," he shares. "I think every member of the team must contribute to our culture for us to reach our true potential. These meetings allow us to do that. They also allow our leadership team, no matter who you report to, have a common experience and shared knowledge about what we believe is important and where we are in our journey as an organization."
During the group's most recent meeting, Faraaz took the opportunity to focus on wellness and mindfulness. Before the meeting began, our group of leaders took their shoes off, rolled out their yoga mats and participated in an exercise led by Ashley Williams, founder of BareSOUL. And the choice to partner with BareSOUL for the meeting was intentional.
"For the past three years our Bon Secours community health program has proudly awarded BareSOUL funds to continue their mission of community-based wellness," Rebecca Christensen, our Richmond executive director of community health, shares.
BareSOUL was founded with a vision to make wellness accessible to the Richmond community through the vehicle of yoga. Their goal is to give people a safe space to come together in their shared life experiences. They proudly offer group classes, individual sessions, community social events and wellness programs in community spaces. By elevating diversity, wellness and humanity, BareSOUL hopes to create equitable, accessible and conscious social experiences for all to be well.
"We know that practicing mindfulness and meditation increases wellness, improves performance and reduces stress," Faraaz adds. "In our very busy worlds where our attention is constantly being pulled, mindfulness is a way to create a space for us to focus on ourselves and, ultimately, our team."
Given what our team members have gone through over the last two years, Faraaz shares, "I think it is imperative as a leader to recognize how to get the most out of your team by identifying the most pressing needs. Based on this premise, ensuring your team is energized and healthy is important. This has become paramount as we have come through two of the toughest years in our recent memory. I think modeling good behavior, encouraging people to participate in self-care and providing a pause during our very busy schedules all played into how we came up with this idea."
Learn about the health care services we offer at Bon Secours.