Highlighting its nationally recognized achievements in patient safety and quality, Bon Secours Richmond Community Hospital (RCH) has again been named a "Top General Hospital" nationally by The Leapfrog Group and has also received an "A" Safety Grade from the organization's fall ratings.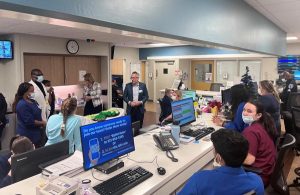 The Leapfrog Group is a national watchdog organization of employers and other purchasers widely acknowledged as the toughest standard-setters for health care safety and quality. Richmond Community Hospital is one of just 32 hospitals in the country that has received a top general hospital distinction for outstanding quality and safety.
Leapfrog's Top Hospital award is acknowledged one of the most competitive awards American hospitals can receive. More than 2,200 hospitals were considered for the award and a total of 115 hospitals were selected as top hospitals, which include children's, general, rural and teaching distinctions.
Leapfrog also has a 10-year history of assigning letter grades to general hospitals throughout the United States recognizing the hospital's achievements in protecting hospital patients from preventable harm and errors. Nearly 3,000 hospitals were graded, and Richmond Community Hospital is among the 28 percent of hospitals that received A's.
"We are proud to receive this distinct top general hospital honor from The Leapfrog Group recognizing the hard work and focus on patient safety that our physicians, medical staff and associates are providing at Richmond Community Hospital each and every day," Bryan Lee, president of Bon Secours Richmond Community Hospital, shares. "Our dedicated team is committed to treating every patient who comes through our doors with dignity and respect, and continues to provide quality, compassionate care to our patients and our community, in fulfillment of our Mission."
Richmond Community Hospital is an urban hospital with 104 beds including an emergency department, a behavioral health unit, a medical surgical unit and a progressive care unit located in Richmond's East End. Recent improvements on the RCH Campus totaling $9.8 million include a new Good Health Pharmacy, increased access to care, and lab expansions, each of which help to foster better service to our patients.
In addition, work is near complete on a $16.5 million medical office building on the hospitals' campus, which will include the implementation of the new outpatient adult behavioral health program. It's the first of its kind in the East End and compliments the existing in-patient services currently offered at RCH. Additional work is underway to upgrade mammography services and a build out a new MRI suite.
Richmond Community Hospital was also recently recognized by the Leapfrog Group in collaboration with Money Magazine as one of the best hospitals for billing ethics. And just last year, Richmond Community Hospital was recognized by the Lown Institute, an independent health care think tank, ss the #1 most racially inclusive hospital in the state of Virginia and one of the most racially inclusive hospitals in the country.
"Bon Secours and Richmond Community Hospital have always been committed to providing equitable health care and good help to those in need," Bryan adds. "While we are honored to receive these prestigious recognitions, we understand that our work does not stop here. We will continue to compassionately and faithfully serve the communities around us as we ensure that our services are accessible to any and all."
Bon Secours committed to addressing health disparities and working collaboratively with others to improve access to health care for everyone in the communities we serve. Our ministry's mission inspires us to continuously strive to improve individual and community health beyond the walls of our hospitals through advocacy, community partnerships and a focus on social determinants.
Bon Secours has been thrilled to invest in the progress and revitalization that has happened in the East End over the years and is proud to continue to support local nonprofit organizations, community partners, small businesses, and residents in this community. Since 2018, Bon Secours has invested more than $19 million in community benefit to support organizations and initiatives throughout metro Richmond, addressing the social determinants of health for residents.
Of this amount, more than $8 million has been invested in Richmond's East End. East End Community Benefit recipients include 45 local businesses with grants totaling more than $900,000 through our Supporting East End Entrepreneurship Development (SEED) program, Habitat for Humanity, Richmond Public Schools, The Salvation Army, Boys and Girls Club, Challenge Discovery, the Peter Paul Development Center, Project: HOMES and the Maggie Walker Community Land Trust.
Learn more about Richmond Community Hospital as well as our ministry's community commitment.