We are now proudly using new technology that can help doctors detect lung cancer faster, when its still in its earliest stages.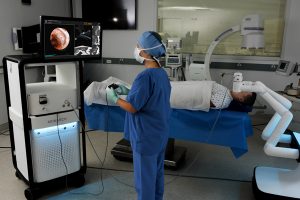 The Auris Health's Monarch™ platform uses a combination of robotics, software, data science as well as small cameras and tools to enter the body through natural openings to view the inside of the lungs and obtain a tissue sample for biopsy.
"Oncologists have made a lot of progress as far as new therapeutics for the treatment, and now, I think it's up to us on the pulmonary side to be able to find these cancers earlier," Travis Greer, MD, a pulmonologist with Palmetto Pulmonary and Critical Care, shares. "This way those therapeutics may not be necessary, we can perform more surgeries to remove early-stage cancers and provide that cure early on."
Lung cancer is the third most common cancer in the United States. Currently, the only recommended screening test for this disease is a low-dose CT scan, and it's only recommended for adults who are at high risk due to their age or smoking history. When this scan shows abnormalities, a biopsy may be necessary.
However, the technology our team is now using is a less invasive way of reaching further than some of the existing procedures. This means providers are no longer forced to wait and watch small lesions. They can instead test those parts of the lungs that were previously unreachable to provide earlier and more accurate diagnoses.
More than 90 percent of people diagnosed with lung cancer do not survive the disease, in part because it is often found at an advanced stage.
"Early detection is important in any cancer, but with lung cancer specifically – you're at a pretty advanced stage by the time you start seeing symptoms," Ezzat El-Bayoumi, MD, another pulmonologist with Palmetto Pulmonary and Critical Care, states. "By that time, your chances of cure have dropped from as high as 95 percent to 13 percent or less. Therefore, early detection is important because it could mean being able to offer a cure. We are excited about the promise of this technology to offer a more hopeful future for our patients with lung cancer."
We are excited to be among the first hospitals in the United States to utilize the Auris Health's Monarch™ platform, which was recently cleared by the U.S. Food and Drug Administration (FDA). It utilizes a familiar controller-like interface that physicians use to navigate to the outer area of the lung. Combining traditional endoscopic views with computer-assisted navigation based on 3D models of the patient's lung anatomy, this platform provides physicians with continuous bronchoscope vision throughout the entire procedure.
"It's essentially a GPS for the lungs," Dr. El-Bayoumi explains. "It tells you where you are when you're inside the lung and navigates you to where the nodule is, giving you real-time visualization and increased precision. With older technology, you could establish where you are, but then you'd have to remove the probe that tells you that information and go in blindly to take biopsies. With Monarch, you're not doing anything blindly. You always know where you are exactly – it's very precise."
Learn more about the cancer care and oncology services we provide at Bon Secours.