Breast cancer can affect anyone, regardless of their background or location.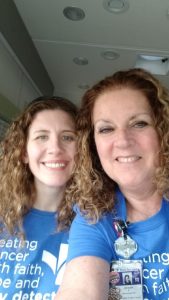 Mammograms play a vital role in early detection as well as diagnosing breast-related concerns. That's why we at Bon Secours are offering this cutting-edge imaging technology in a comfortable and patient-friendly setting.
As part of our commitment to improving access to mammograms in the communities we serve, St. Francis operates a mobile mammography coach that delivers digital mammograms to thousands of women in our Greenville market and surrounding areas. The mobile mammography coach provides the same advanced diagnostic screenings and patient-centered care available at the Bon Secours Pearlie Harris Center for Breast Health.
Alicia Landreth (pictured above in the right photo, far left), mammography technologist and mobile mammography coordinator for Bon Secours St. Francis Eastside, has served in the mammography department for 20 years. Since she started with our ministry, Alicia has seen many advances and improvements in technology and tools for reading – from dark rooms to daylight processors, to digital imaging, to 3D images.
Alicia joined our mobile mammography unit because she loves the opportunity to take our ministry beyond the walls of the hospital.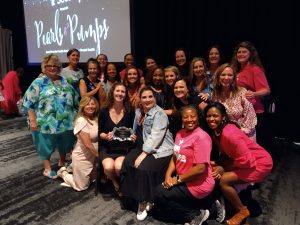 "We take the mobile coach out to Travelers Rest and Easley every month," she says. "Bringing the convenient service of the mobile coach to Pickens County and out to northern Greenville County makes such a difference for the ladies in these communities. Many of them don't have the opportunity to drive to Greenville. The mobile unit also provides a non-hospital environment that makes many ladies feel more comfortable coming in to do their test."
One of Alicia's favorite places to take the mobile coach is to the local plants and manufacturing sites.
"Many of these ladies work long days and/or six and seven days a week," she says. "If we did not bring this service to them, they would not take the time off work to go have their screening test done. These ladies are often the most appreciative too! They thank us for being there, which means a lot to us as well!"
When asked what advice she would give to recognize Breast Cancer Awareness Month, Alicia shares the following.
"Ladies, please take 15 minutes out of your day to do this important, once-a-year screening test. Many women ask, 'do I really need to do this test yearly?' My response is always the same: no matter your age, when you are over 40, we will always recommend a yearly screening due to the huge difference early detection makes."
Learn more about mammograms as well as the cancer care services we provide at Bon Secours.