Our team members at Bon Secours Maryview Medical Center were excited to celebrate the hospital's 76th birthday on March 4, 2021.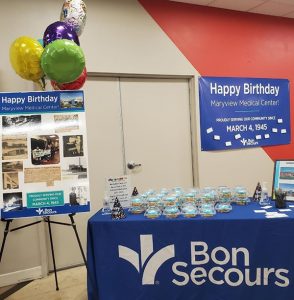 This celebration comes after the facility spent much of 2020, their 75th year, in the midst of an unprecedented pandemic.
"I am struck by the parallel of our hospital's 75th birthday to the founding of our hospital in 1945 during the polio epidemic," Kate Brinn, hospital president, shared during the day-of celebration. "From our beginning, we have provided good help to those in need during the most challenging times."
Maryview Medical Center has a lot to be proud of. Throughout the COVID-19 pandemic, Maryview has provided care to hundreds of inpatients and over a thousand patients in the emergency department with COVID-19. Team members from all departments rose to the challenge of abiding to rapidly changing guidelines as they, like the rest of the world, learned about COVID-19 while treating it.
"We came together as a team, supporting one another, our patients, and their families, through both the sadness of loss and the joyful reunions of patients recovered," Kate recalls of her experience from this past year. "We grieve and celebrate with them as we enter 2021 with the hope of a new year and a vaccine to protect our families and neighbors."
In addition to battling COVID-19, the facility has seen improvement in many quality and safety indicators. Maryview Medical Center was named a Top Hospital for 2020 by Virginia Living Magazine and received a score of "A" from Leapfrog Hospital Safety Grades, the gold standard measure of patient safety. Additionally, the facility received Gold Plus and Honor Role Elite Plus recognitions for stroke care; and will receive a 3-Star rating from CMS in April 2021.
Maryview Medical Center has also demonstrated improvements in hospital acquired conditions and sepsis mortality. In fact, the facility is a top five performer of all hospitals in Virginia for all-payer readmissions for multiple diagnoses.
Over the past year, Maryview partnered with the community and provided 1,000 COVID tests and 1,500 vaccine doses with the Portsmouth Health Department, donated clothes, food and supplies to Oasis Homeless Shelter and Westhaven Elementary. The facility also administered over 1,200 drive-thru flu vaccines in Portsmouth, VA and Suffolk, VA.
Looking ahead to what's in store for the next 76 years, Kate says, "we will continue our focus on exceptional patient experience, quality and safety by challenging the status quo to ensure we are keeping our patients at the center of all we do."
Congratulations again to Maryview Medical Center on 76 wonderful years!
Learn more about our community commitment as well as the health care services we provide at Bon Secours.