At Bon Secours, our mission is to extend the compassionate ministry of Jesus by improving the health and well-being of our communities and bring good help to those in need, especially the poor and dying. We feel it is our privilege and duty to improve access to health care.
During the month of August, we were honored to partner with the Portsmouth Health Department and perform 1,000 free COVID-19 tests for members of the Portsmouth community. This partnership began after Bon Secours received a CARES grant from Portsmouth Health Department to create access to COVID-19 testing for our underserved population within this region.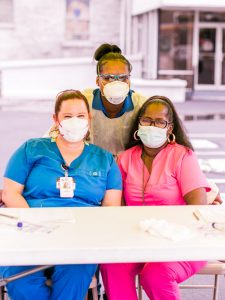 Testing events were held at local churches that are typically care sites for the Bon Secours Care-A-Van. Our team members staffed the events and COVID-19 testing was available on a first come, first served basis.
"If it wasn't for Bon Secours, I wouldn't be able to afford the test to get the clearance to go back to work," shares one community member who attended.
"As COVID-19 persists, we are continuing to see the impacts of the social determinants of health in our own communities." says Kate Brinn, president of Bon Secours Maryview Medical Center and Bon Secours Harbour View Medical Campus. "At this time, one of the biggest barriers for the underserved community is access to COVID-19 tests. Through this grant and partnership, we were able to temporarily bridge that gap for our community and live our Mission of bringing good help to those in need."
Another community member shares what having access to a COVID-19 test meant to her.
"I am very grateful for Bon Secours and I appreciate that you thought about those who need to know if they have COVID-19 or not but can't afford the test."
At Bon Secours, we are here to care for your whole health. When you seek care with Bon Secours, our trusted providers will determine if a COVID-19 test is clinically appropriate for each individual. The decision to test for COVID-19 is based on symptoms, exposure, health history and other variables.
If you request a COVID-19 test, that does not guarantee you will receive one. And if you are interested in visiting a testing site, please contact your local health department for more information.
Stay updated on what Bon Secours is doing related to COVID-19.