As a leader in our ministry, Cassie Lewis, chief nursing and quality officer in our Hampton Roads market, is responsible for the delivery of nursing operations for the market. This includes supervising bedside care as well as nursing quality and practice.
We sat down with Dr. Lewis recently to have her share her thoughts on Bon Secours Mary Immaculate Hospital and Bon Secours Maryview Hospital being recognized as LeapFrog Top Safety Hospitals. Read her answers below.
First off, tell us a little about yourself, Cassie – Where are you from? How long have you been a nurse? Where did you go to school?
I'm originally from central Florida and moved to Virginia in 2005 to start my first job as a registered nurse in a pediatric intensive care unit. I knew I wanted to eventually become a nurse practitioner and went back to school to get my MSN at the University of Virginia while working full time as a nurse. In order to gain some additional experience, I went to the VCU Health System as an emergency department nurse and eventually became a critical care nurse practitioner working in the surgical trauma intensive care unit.
In 2012, I came to Bon Secours to develop the nurse practitioner program for the adult hospitalist group. From there, I went on to become the regional director of advanced practice for both the Hampton Roads and Richmond markets after completing my DNP at Old Dominion University.
Interestingly, I got into quality in a roundabout way. There was a need to really engage our medical staff and nurses in taking a more proactive approach to improving the quality and safety for our patients. As a nurse practitioner, I was uniquely qualified to meet both of those needs.
I became the director of quality and patient safety for Hampton Roads and Richmond first. Then, I became the chief quality officer for several of our markets and recently, I became the chief nurse and quality officer for our Hampton Roads market. I am beyond excited about the work that we will do to drive our clinical outcomes.
What has your experience as chief quality officer been like?
If you would have asked me years ago if I would be in quality, the answer would have been no. Now, after leading quality for the last five years, I understand the path that my leaders asked me to do and the unique ability to see things from the perspective of a provider and a nurse.
What does it mean to you to be a chief nursing officer?
I have always had a passion for nursing and advancing the profession as a whole. This current role gives me the opportunity to impact nursing on a larger scale.
All throughout my career in administration, I've continued to practice as a nurse practitioner. Being side by side with nursing continues to be my driving force in leadership. This perspective given to me is one that is invaluable. I can watch and learn what really is impacting our nursing team members, our ancillary team members and, most of all, our patients. I can then take that knowledge back to my leadership role and advocate in a way that many people cannot. All of this allows me to better serve the needs of the nurses across our market.
What can you share about the importance of an organization holding itself to high standards in quality and patient safety?
Without safety and quality, we are unable to fulfill the mission and values of our organization. We are also not able to be there for the communities in the way they need us. Patients come to us in their most vulnerable state and it is our obligation in health care to take care of them in mind, body and soul. This means providing them with high quality care at every interac
tion and keeping them safe when they are under our care.
Quality and safety are probably the two most important words in health care today. Organizations that do not put these two things at the center of all they do cannot and will not be successful.
What does it mean to you to be an "A" rated hospital by LeapFrog?
Each day our hospitals are striving to improve quality and safety, which is an ever-evolving task. As the industry changes, it is incumbent upon us as leaders to adapt and evolve with it. This means holding ourselves to even higher standards.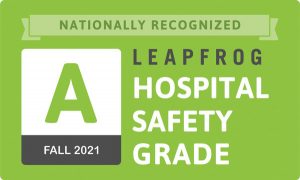 Being an "A" rated hospital demonstrates our commitment to putting quality and safety at our forefront as well as putting best practices in place. From having a patient or family member serve as part of our quality and patient safety council at the hospitals, putting policies in place to prevent patient harm or simple things like handwashing: all of these things need to be in place to be considered for an "A" grade.
Very few organizations can say they are "A" rated year over year. This demonstrates our organization's continued dedication and commitment to providing high quality care that promotes patient safety when under our care. Maintaining this grade demonstrates sustainability of the practices and processes we have put in place to continue our journey to zero harm and that each day we are striving to do better.
Having this grade is something to be celebrated by our team members across the organization. Every individual plays some role in keeping our patients safe. They see this and realize all the work that they put in and the commitment they have has paid off. We celebrate this with them each time. Mercy Health team members, thank you for your dedication to our patients and helping us deliver the highest quality care!
Learn about the health care services we provide at Bon Secours.