In August 2016, our ministry launched the Enhanced Recovery Program (ERP) at Bon Secours St. Mary's Hospital. This program includes a set of predefined practices designed to standardize certain aspects of surgical care.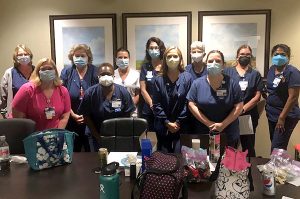 Since its inception, ERP has enrolled approximately 1,500 of our elective open and laparoscopic colorectal, cystectomy, bariatric and nephrectomy surgery cases. This has led to many improved surgical outcomes for our patients.
"Before the enhanced recovery program launched, each surgeon would have their own methodologies such as when patients would stop liquids or when they could be discharged," Dennis Cohen, MD, a general surgeon at St. Mary's Hospital and Richmond Community Hospital, shares. "Over the last five years, we have worked to standardize care so that every elective surgery patient experiences the same before and after protocols, which leads to better outcomes."
ERP includes all phases of perioperative care, starting in the surgeon's office all the way through post-discharge, and has an important focus in the preadmission testing department and holding departments. Additionally, all patients receive preoperative education through the program, including the plan for how pain after surgery will be managed as well as what foods they can eat.
"Our patients go into surgery with a clear idea of what they can expect," Dr. Cohen adds. "By making patients active participants in their own care, they tend to do better."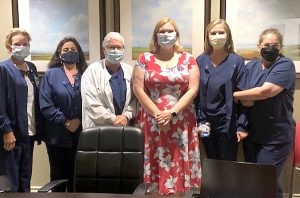 "We are very proud of the team-centered, evidence-based practice approach that has been applied to this program. All components are based on the most recent research," Rebecca Eades, an inpatient general surgery nurse practitioner at St. Mary's Hospital, adds. Rebecca is one of the nurses who spearheaded this program five years ago.
Our clinical team members have documented dramatic improvements in surgery quality outcomes since ERP was created. These improvements include a two-day reduction in length of stay for patients, down from approximately six days pre-ERP to four days with ERP now. Other benefits seen by patients in the program include reduced risk of surgical site infections and reduced readmission rates.
This program is also focused on the opioid crisis and aims to reduce opioid intake by using other pain management strategies. The team at St. Mary's has seen significant impact with some patients not needing any opioids after the surgery and many not needing opioids after discharge
"We are extremely proud of the quality, compassionate care we have provided to patients in the program," Rebecca says.
Because of these successes, the Enhanced Recovery Program has since expanded to Bon Secours Memorial Regional Hospital and will launch at Bon Secours St. Francis Medical Center next month.
At Bon Secours, everyone works together as one coordinated, unified team so that all providers, patients and families understand how to achieve the best possible outcome after surgery.
Learn more about our general surgery options.