Our ministry's commitment to the Richmond community is unwavering.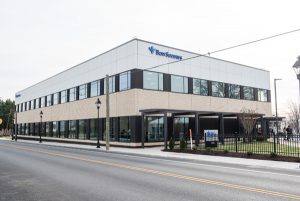 In early January, our leaders and team members, Richmond Councilwoman Cynthia Newbille as well as community and civic partners joined together to celebrate the grand opening of the East End Medical Office Building (MOB). This two story, $16.5 million, 25,000-square-foot facility, is a brand new addition to our Bon Secours Richmond Community Hospital (RCH) campus.
The East End MOB will significantly improve access to quality health care for Richmond's East End community. A service housed in this facility includes Richmond Community Hospital's intensive outpatient adult behavioral health program, the first and only of its kind in the East End. Also here is an outpatient wellness clinic, which will include community health wellness and prevention services.
Additionally, our pastoral care education team, community health team, home health and hospice teams, as well as additional support for behavioral health that includes tele-consult services and intake services, are also housed here.
"It's a great day in the 7th District," The Honorable Cynthia Newbille, PhD, councilwoman for Richmond City Council's East End/7th Voter District, said at the launch event.
At this event, we also introduced the Community Today, Community Tomorrow: Pathway to Wellness in the East End initiative, a comprehensive health and wellness plan to benefit the East End community.
The Community Today, Community Tomorrow: Pathway to Wellness in the East End initiative is a go-forward plan that we are confident will improve health outcomes in Richmond's East End. This three-year plan was developed using real data gathered from feedback from this community, for this community.
It is focused on four key components with actionable items that can be used to transparently measure progress on our website.
These key components are:
Increasing access to medical services
Focusing on wellness and prevention
Growing our partnerships with the East End community
Recruiting and training physicians and associates
Each of these components of the Pathway to Wellness in the East End plan are part of our promise to respond to community needs and increase access to much-needed services based on the ever-changing needs of our patients. In addition to this path forward, our ministry will continue to invest in community benefit programs and provide community benefit investment grants to the East End community through initiatives that support the social determinants of health.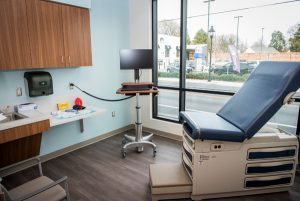 "When I joined Bon Secours, it was important to me that we focus on forward momentum and continuing to improve the health and well-being of the Richmond community," Mike Lutes, our Richmond market president, shares.
"It is equally important that we listen to the people who live and work in the East End, and base decisions on the community's actual need and not on inaccurate assumptions."In developing the Community Today, Community Tomorrow plan, we gathered feedback from hundreds of East End residents during our triennial Community Health Needs Assessment. The assessment included more than 60 conversations with 150-plus team members and community stakeholders as well as learnings from ongoing stakeholder engagements. Also critical to our plan was input from our physician advisory council, a group of more than 20 physicians living or working in the East End who advised our ministry on the clinical needs of area residents.
"I just want to say, thank you," Councilwoman Newbille added during the event. "Thank you for your commitment to the East End. Thank you for delivering on your agreement to develop a comprehensive, strategic health and wellness plan based on input, from leadership, from the community, from stakeholders, from your staff and from residents. Thank you for that. You said you would, and you've done that today."
Learn more about our Richmond market as well as the health care services we provide at Bon Secours.