At Bon Secours, our patients are our mission. We are always looking for ways to give back to the communities we have the privilege of serving.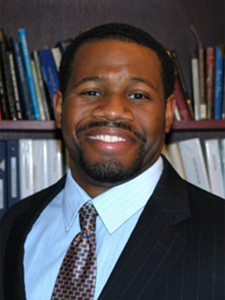 One way we are doing this in the West Baltimore community is through Bon Secours Community Works. This program focuses on health services for both youth and families, economic development, coalition building, community engagement, housing and community development.
We are very excited to welcome Harry Spikes as the new executive director of Bon Secours Community Works! Harry, who served as district director for Elijah E. Cummings, the late Congressman for the 7th District of Maryland for the last 15 years, will help grow this program and contribute to long-term economic and social viability of the neighborhoods it serves.
To help you get to know Harry a little better, we sat down with him for a Q&A.
Q: What made you interested in working for Community Works?

A: "I appreciate mission driven work that align with my values as a public servant. Bon Secours Community Works is an organization that I respect and admire. They have never left West Baltimore and continue to be an army of leaders that fight to provide the best community services to uplift people. I am just proud to be one of the soldiers in that army."
Q: What are you most excited to do during your tenure with Community Works?
A: "Visual change brings about spiritual change. Our community will get a chance to see us create a community center, healthy green space, and provide creative initiatives to combat community safety. When people see positive change around them, they change spiritually and think positively. The road to hope is positivity.
Q: What is the best advice you've received?
A: "To focus on your pain, passion and purpose. Congressman Cummings used to say, 'out of your pain, comes your passion which defines your purpose.'"
Q: How has the pandemic impacted the way Community Works operates?

A: "Human interaction is powerful and important. That's why most of the services we provide require face-to-face interaction. The COVID-19 pandemic has changed everything about the way we work with and help one another. However, it forces us to be creative and find collective ways to continue to provide services while still being safe. I look forward to providing creative solutions to continue Community Works great work!"
Q: What are you hoping to accomplish in your new role?
A: "The residents of West Baltimore have had many challenges, but they are resilient and strong. I hope to be the leader that embodies these qualities and builds community one person, one house and one block at a time."
Q: Anything else you'd like to share?
A: "I know we have a long road ahead, and I know change doesn't come overnight. But with any road, you must have a strong vehicle. Bon Secours is an amazing vehicle with great drivers and mechanics. Together, we can make a difference and I am happy to be a part of this team. No matter how hard or long the race; we will endure, we will win!"
Learn more about our community development programs.