For more than 30 years, Bon Secours Community Works has been honored to be an anchor in the West Baltimore neighborhood. Our work in this program allows us to further our ministry's mission through community health programs including youth and family services, economic development, coalition building, community engagement as well as housing and community development. By providing these programs and services, we are able to address the social determinants of health and uplift West Baltimore residents and families.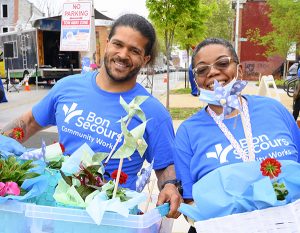 Today, we are proud to announce that Baltimore has a new, state-of-the-art Community Resource Center open to the public.
The Bon Secours Community Resource Center is the result of a years-long partnership between Bon Secours Community Works, Kaiser Permanente and the Anchor Group. Made possible by grants and donations from many generous organizations, this $6.8 million community center was specifically designed by and for the West Baltimore community with a focus on youth services, workforce development and economic development. The Community Resource Center will restore an essential gathering space in the Boyd-Booth neighborhood that has been shuttered for decades.
The community joined together today to mark the official grand opening of the Community Resource Center with an all-day open house event followed by a ribbon-cutting ceremony attended by funders, state and local leaders, as well as residents and community members. Joining the leaders, dignitaries and community members at the grand opening were children and teachers from Franklin Square Elementary/Middle School, Mary Ann Winterling Elementary School, Frederick Elementary School as well as residents of Bon Secours Unity Properties housing.
Throughout the day, community members participated in tours of the center, interactive presentations, visual arts activities led by Art With A Heart, physical activities with the Boys and Girls Club and performances and African drumming workshops by WombWorks. In addition, a time capsule was revealed and the community is invited to contribute to before it is sealed for the next 25 years.
"This center will be a safe haven not only for our youth, but all residents of the West Baltimore community," George Kleb, executive director of Bon Secours Community Works, shares. "It is our sincere hope that this center will help to address some of the social determinants of health and foster opportunities for wellness, mentorship and meaningful connections for all. We could not be more excited to open our doors and celebrate this incredible milestone with the entire community."
The Bon Secours Community Resource Center is now open to all West Baltimore community members free of charge.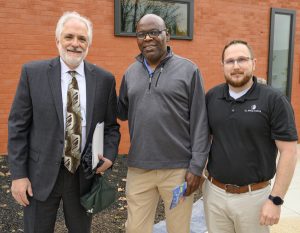 The center will be open Monday through Friday from 10 a.m. to 7 p.m. Saturday hours may be available for scheduled programming in the future. It will house the following variety of walk-in and scheduled programming for both children and adults.
After-school programming

Physical activity and sports
Homework assistance
Arts and crafts
Musical instrument and music production lessons
Nutrition education
Literacy Club

Job training and employment services

Computer lab and job hub
Health care training program
Case managers and support staff

Financial wellbeing center

One-on-one financial coaching
Workshops and events
Eviction prevention support
Low-cost tax prep services
Earned benefits screenings
Small business coaching and development

Multi-purpose rooms for community meetings, events and flexible programming
Gym with full basketball court
Recording studio available for lessons and rental
Various Community Works programing throughout the year

Financial services programs
Health care training program
Summer youth works program
Clean and green program
Through the development of the Community Resource Center, we have proudly further solidified our commitment to serving the West Baltimore community for generations to come. Learn more about Bon Secours Community Works and its programs.