Having someone you love receive a cancer diagnosis is devastating, especially when circumstances keep you from being by their side.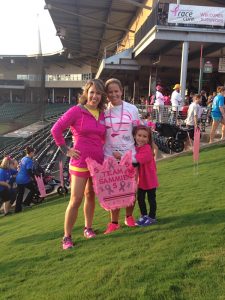 No one knows that better than Melissa Morrell. She was living in Greenville, S.C. when her mother, a Charleston, S.C. resident, was diagnosed with stage 4 breast cancer in 2008.
"My brother and sister could take her to chemo appointments and be with her, but I was a working mother with three kids, and I lived three hours away," Melissa explains. "There was only so much I could do, but I felt this compelling need to do something."
So, Melissa (pictured above, left) created Team Sammie in honor of her mother, Sammie Sweeney-Ferrigan (pictured above, right). It became the slogan for various efforts Melissa became involved in to support breast cancer awareness and research. Even when Sammie lost her battle with cancer in 2014, Melissa felt strongly that her fight had to continue.
"It took on new life upon her death because it was even more important for me to continue to honor her and her legacy," Melissa shares, who continued to conduct third-party fundraising events at gyms, local boutiques and spas for many years.
It wasn't until 2020 when she began brainstorming ideas for a 'signature' fundraising event that Bourbon for Boobs was born.
"My husband and I were in NEAT Bourbon Bar on Main Street, discussing ideas for what we could do to raise money when the bar manager, a dear friend of ours, offered to give us the space and that was it," Melissa says. "We came up with the name for the event right then and there. Ironically, my mother was not a drinker and did not like bourbon either, but it's something that transcends demographics. You can be young, old, white or black and drink bourbon – just like you can be any of those things and still get cancer, so it just made sense."
This October, Team Sammie will host its biggest event yet, Bourbon for Boobs, thanks to the continued generous support of local businesses.
Cowboy Up Greenville is providing the venue, with SOCIETY Sandwich Bar and Social Club, the Maker's Mark brand as well as Trey Francis and his band all donating their services for the event to ensure 100 percent of the money raised goes toward the cause. Ben Worley of Northwestern Mutual of Greenville is also a proud sponsor.
"The community involvement and passion for this event has left me speechless," Melissa shares. "The vast majority never knew my mother, but everybody's affected by breast cancer in one way or another, so it's been really incredible to see these wonderful friends, local businesses and vendors of mine step up to help. It's been an organic event that has evolved into something that I know my mother would be proud of."
In addition to food, music and custom crafted bourbon cocktails, the event will also showcase a silent and live auction. The fundraising goal is $60,000 – money that will go directly to Bon Secours St. Francis Health System's Pearlie Harris Center for Breast Health.
The Pearlie Harris Center for Breast Health brings the most advanced breast imaging technology available together in one place with an expert staff that offers compassionate, convenient care and rapid results. In addition to the exams offered at the Pearlie Harris Center for Breast Health, the Bon Secours St. Francis mobile mammography coach offers screening mammograms throughout the community to remove any transportation barriers women may have.
"Our mission of being good help to those we serve continues to be at the very heart of what we do," Dana Hagy, director of women's imaging and diagnostic for Bon Secours St. Francis Health System, shares. "With the support of Bourbon for Boobs we can provide the best breast care to those who need it most."
The money raised at the Bourbon for Boobs event will specifically be used to help underserved women access the screening and diagnostic mammograms, ultrasounds and breast MRIs they need.
Learn more about Bourbon for Boobs, purchase tickets or even simply make a donation to the cause.
Also, learn about the cancer care services we offer at Bon Secours.