You don't have to know Pearlie Harris to know who she is or what she stands for. Just take a drive around Greenville, SC. She's been the namesake of Bon Secours St. Francis – Greenville's breast health center for nearly a decade. Last fall, her legacy as a teacher was commemorated in a massive mural painted on the façade of the former BB&T building downtown.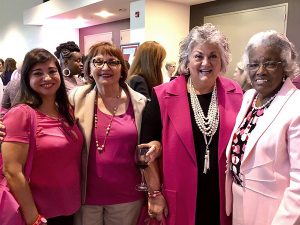 "The idea is I'm standing over Greenville and the hundreds of thousands of people who come into Greenville every day. We hope it's saying something to those people about diversity and about love – love for one another, love for children and love for the community," Pearlie shares.
The Saluda, NC native says both her life and career have always been about acting in love, even in the face of adversity. She recalls her hometown as "a teeny, tiny town that had very few black families" where she and her siblings had to dodge rocks thrown by other kids on their walk to school. She credits her father's love with keeping her on the right path.
"We were never spoken to about anything being evil or ugly, and we didn't say bad things about other people because my dad said they're God's children, too," says Pearlie. "He was a Baptist minister, and he taught all the good things of life to us as children."
Her father wasn't the only person to pass on those lessons of love to Pearlie. She also credits a high school English teacher's compassion for inspiring her decision to become an educator herself. Additionally, it was her high school principal who helped Pearlie find the funding she'd need to go to college. Though, Pearlie admits it was a not so pleasant experience with one of her middle school teachers that led her to focus on elementary education.
"It seemed like she always picked on me, and I thought if I taught little children, I would never treat them like that," says Pearlie. "I've got to touch the minds, the hearts and the souls of these little children. That's what teachers do – they touch the future. All these people walking around with these great degrees and fantastic jobs – who had them first? Their parents and their teachers."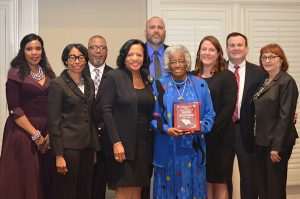 Harris spent 37 years in the classroom, passing on more than just lessons in reading, writing and arithmetic. She practiced the Golden Rule and tried to lead by example, even when she was met with resistance.
"As a teacher during integration, I was that black teacher – the one parents would openly talk about. They'd say they never thought they'd have someone like me in their school, so I promised myself it was going to be one of the best years I'd ever taught just to prove a point."
Pearlie wisely says that leading with love is the only remedy.
"I'm happy we have made the moves we've made up to this point. We still have a long ways to go, but we've also come a long, long way. I'm just appreciative to still be alive and see all these things going on in our country."
In fact, it was an act of love that gave her the idea to throw her support behind breast cancer awareness. You may be surprised to learn that Pearlie nor any of her immediate family have dealt with the disease personally. Instead, it was a former student that sparked her passion for the cause.
"It came from a little girl who was in my class. Her mother had breast cancer and the only thing I could say to her was, 'I'm so sorry, but she'll be alright.' Then, that same little girl ended up also getting breast cancer while she was in high school. Turns out, it ran in her family."
She may have been unable to do anything at the time, but Pearlie is now the namesake of the Pearlie Harris Center for Breast Health – a state-of-the-art center with advanced breast imaging technology that provides life-saving screenings to women in the Greenville community.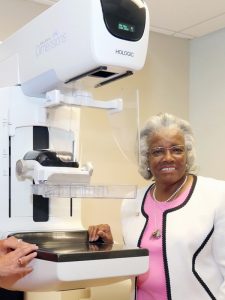 "It's hard to say what it means to me, because this is huge. It's really big, but it goes to show that if you do the right thing and people think enough of you that you can do almost anything you want to do. I didn't intend to do this."
Pearlie also didn't intend to become chair of our hospital's Board of Directors, a position she held for three years.
"You talk about an honor – that was truly an honor, to hold that position. For the sisters to have that much respect and trust in me that I could do a job that I thought I couldn't do… it brings tears to my eyes."
Pearlie never planned to get into health care, but days after retiring from teaching, she received a call that initiated the next chapter in her life. A friend talked her into the volunteering role that would eventually lead to her history-making role as chair of the board and the building of the Pearlie Harris Center for Breast Health.
And she has no plans of slowing down anytime soon. Despite the incredible contributions Pearlie has made to her community, she believes there's still more to be done.
"I grew up on a farm… I lived in a log cabin, cut wood, and walked the railroad tracks to pick up coal to heat the stove – not only for cooking, but to stay warm. Look at me now, what a difference has happened in my life. So, I need to make a difference in someone else's life."
Pearlie finds that Black History Month is a important time to reflect on the central role African Americans and their achievements have played in our country throughout the years.
"It brings back memories of what African Americans have done in the past and what we're trying to do moving forward," she shares. "Everything that everybody else has should become a possibility for African Americans too. We're not trying to take things away from anybody, just gain for our own benefit."
At times throughout her life during social unrest around race, Pearlie has found hope for the future from her favorite people: children.
"I think of the story of this little boy that I heard several months ago who needed a haircut. He told his mom he'd get one if he could have it cut like his friend. The mother agreed and after getting his haircut, the boy exclaimed, 'When we go to school, the teacher won't know us apart!' What you come to learn is one boy is white and the other boy is black. So that tells us children are taught hatred. Meanness is not something they grew up knowing to do."
Learn more about our mission, vision and values as well as the health care services we provide at Bon Secours.