It's estimated that 7 million Americans are affected by atrial fibrillation (AFib) – an irregular heartbeat that can feel like a quivering heart.
While there are ways to manage an individual's AFib episodes through medication or ablation procedures, patients with AFib have a five-fold increased risk of having a stroke due to blood clots. For years, AFib patients have managed this risk by taking blood thinner medications, but now there's an alternative to this.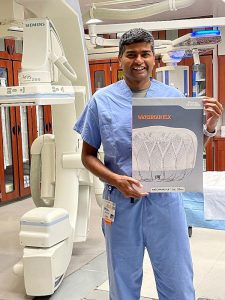 A one-time procedure called the WATCHMAN™ includes an implant that can help reduce the risk of stroke for many patients. And that's certainly what this procedure did for Jane, a patient who, thanks to our expert cardiac care, is looking forward to enjoying life without the burden of taking blood thinners.
What is atrial fibrillation?
"Atrial fibrillation is an irregular, chaotic heartbeat originating from the upper chambers of the heart that puts patients at a higher risk of stroke due to an increased risk of blood clots," Saumil Shah, MD, FHRS with Virginia Arrhythmia Consultants (pictured in copy), shares. "Patients with AFib typically experience symptoms including fatigue, shortness of breath, sometimes chest pain and a fluttering, rapid or irregular heartbeat. We typically advise these patients to reduce their stroke risk with the use of lifelong anticoagulation medication, also known as blood thinners."
How does the WATCHMAN™ procedure help AFib?
The WATCHMAN™ implant is a small device that is properly sized for each individual and then seated in the left atrial appendage of the heart. It is put there because this is where more than 90 percent of the clots are formed that cause stroke in patients with AFib. The implant then prevents clots from forming and entering the blood stream.
The WATCHMAN™ device cannot be seen outside of the body and the procedure is completed under general anesthesia. Patients with non-valvular AFib who are interested in an alternative to taking the common blood thinner medications are particularly well-suited for this procedure, as the implant effectively reduces the risk of stroke without the need for medication.
After the procedure, patients may be discharged the same day, or may commonly have a one-night hospital stay. Depending on the individual, medication may need to be taken for a short period following the procedure until heart tissue has successfully grown around the WATCHMAN™ implant to form a barrier to protect against blood clots.
Jane's WATCHMAN™ story
Jane had been dealing with AFib for about two or three years before wanting a change. While she was managing her AFib with medications and had undergone two ablations, she was ready for an alternative to having to take blood thinners for the rest of her life.
As an active person who's involved in sports and gardening, Jane was tired of bruising and bleeding whenever she accidentally hit or cut herself. Of course, she was concerned about the potential for developing a blood clot, but she was equally worried about severe bleeding that may come as a side effect of taking the blood thinner medication long-term.
"I never suspended activities due to the challenges associated with taking a blood thinner, but I was always very cautious as to not cut or hit myself and I was constantly thinking about the potential for a serious, traumatic bleeding injury if I were to get into a car wreck," Jane explains. "When I learned about the WATCHMAN™, it sounded like a simple procedure that would allow me to live without the risk of or consequences of stroke, and the ability to come off of my medication."
Jane received the implant at Bon Secours St. Mary's Hospital under the care of Dr. Shah and was discharged just a few hours after the procedure. She shares that her recovery was fairly easy. After just a few weeks, she felt that her body adjusted well and even her arrythmia was so regulated that she was able to come off her other medications to manage her AFib – an unexpected result!
"I wouldn't hesitate to do it all again," Jane adds.
We currently offer the WATCHMAN™ procedure at two of our Richmond market facilities: Bon Secours St. Mary's Hospital and Bon Secours Memorial Regional Medical Center. In fact, a congratulations is in order for our team at Bon Secours St. Mary's Hospital (pictured above) on recently implanting their 100th WATCHMAN™ device.
Learn more about atrial fibrillation as well as the heart and vascular care we offer at Bon Secours.