Every 40 seconds someone in the United States has a stroke. It's one of the leading causes of long-term disability in our country, which is why many medical experts will tell you that "time is brain."
A stroke occurs when there is a loss of blood flow to part of the brain, which then destroys neurons. The American Heart Association estimates a brain loses as many neurons as it does in nearly 3.6 years of normal aging for every hour a person experiencing a stroke goes without treatment. Therefore, seeking medical care immediately is critical.
"Part of caring for patients when they're having a stroke is the faster you can initiate time-sensitive treatments, like the clot-busting medications, the better," says Casey Smith, Bon Secours Stroke Program Navigator.
That need for speed inspired Casey come up with "Howard's Brain," an award meant to motivate and reward faster stroke response times. It's a spin on Clemson University's famed Howard's Rock that part of the football team's home game ritual – something Casey is very familiar with, as her father was on Clemson's first national championship team in 1981-82.
"It just popped into my brain to have it look like a brain, because of strokes, and call it Howard's Brain," Casey recalls. "It looks just like Howard's Rock in a glass case, except it's a gold brain. There are plenty of Clemson fans on staff and non-Clemson fans, too, and they all want the award … for the bragging rights."
The goal of the competition is to inspire team members to move quickly and cut down the amount of time it takes to administer drugs to a stroke patient after they arrive at the hospital. This is also referred to as the "door-to-needle time."
"When I took this position, we were right at 60 minutes. We're trying to decrease that time, because the faster you give the patient that drug the better their chance of recovery," says Casey.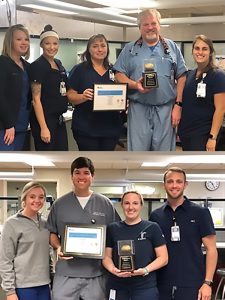 The incentive has worked well! The most recent Howard's Brain award was given out to two teams who tied with door-to-needle times of 14 minutes (see photos left). Additionally, the entire health system's average door-to-needle time is much faster these days at 34 minutes.
Now, our team members are working with other Upstate hospitals with the goal of faster stroke treatment and improved care. While many hospitals treat stroke patients, not all of them offer the specialized care provided by a comprehensive stroke center like Bon Secours St. Francis Downtown. Therefore, it is important to get patients where they need to be to receive appropriate treatment as fast as possible.
"The faster you transfer the patient, the better chance you give that patient for a better outcome," says Casey.
The time it takes to transfer a stroke patient is referred to as a "door in, door out time." The goal with this time is to stay under 60 minutes. Bon Secours has been tracking these times as patients are brought in for care.
"That's part of what being a comprehensive stroke center means. We work with other primary stroke centers in the area and give them feedback, because faster times mean better outcomes. We're all working together for that same goal."
For their transfer efforts, our stroke team members recently decided to offer special recognition to Pelham Medical Center's Emergency Department earlier this month. This team (pictured above) achieved a door in, door out time of 41 minutes. Casey says it's one of the fastest times she's seen in the past few years. As a reward, the team received a certificate during a special presentation along with lunch.
"It just proves that you don't have to be a big facility to do your part and provide great stroke care."
Learn more about the stroke care we provided at Bon Secours.