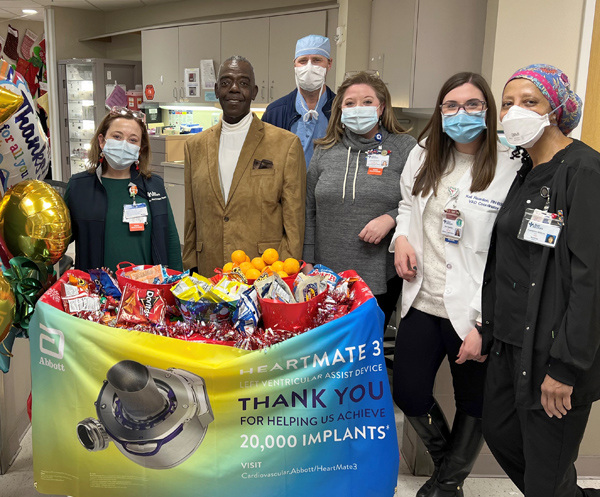 According to the American Heart Association, of the more than 6 million Americans living with heart failure, about 10 percent have advanced heart failure. This means that conventional heart therapies and symptom management strategies are no longer working for them. Many of these patients need a heart transplant but are not eligible for one due to medical conditions or complications.
The Bon Secours Advanced Heart Failure Center is here to help this group of individuals. The facility is recognized for high-quality, comprehensive care in all spectrum of heart failure therapies, including therapy with left-ventricular assist devises (LVAD) for end-stage heart failure.
"Advanced heart failure can be a crippling and costly disease, and it's important to be able to offer our patients a technology that gives them the opportunity to return to a better quality of life," Katherine Lietz, MD, PhD, medical director of the Advanced Heart Failure Center, shares.
That's where an LVAD – or a heart pump – comes in. It's an implantable device that pumps blood through the body in people whose heart is too weak to do so on its own. Bon Secours physicians have been at the forefront of offering this treatment option for several years now.
In 2015, our ministry was one of 60 elite centers in the United States — and the first in central Virginia — chosen to evaluate Abbott's Thoratec® HeartMate 3™ Left Ventricular Assist Device (LVAD), which was a new advancement in mechanical circulatory support (MCS) for people with advanced heart failure. This trial, MOMENTUM 3, was the largest LVAD trial in the world, and the HeartMate 3 LVAD showed a survival rate of 82.8 percent at two years – an outcome comparable to a heart transplant.
Recently, Bon Secours received national recognition for participation the MOMENTUM 3 trial. Additionally, our ministry was the only destination therapy program, or non-transplant center, among 69 nationwide sites that participated in the trial. This distinction was based on the excellent outcomes of LVAD therapy at Bon Secours St. Mary's Hospital. Non-transplant centers constitute a very small percentage of 170 certified LVAD programs in the country.
The HeartMate 3, which has been implanted in more than 20,000 people worldwide, is the first commercially approved LVAD with technology that allows the device's rotor to be "suspended" by magnetic forces. This design aims to reduce trauma to blood passing through the pump, thus improving pump longevity and reducing risk of complications.
In the spring of 2021, Bon Secours' LVAD program celebrated 10 years of the initial Joint Commission Certification for Destination Therapy LVAD, earned in 2011. To date, the program performed more than 180 LVAD surgeries with long-term survival rates superior to the national outcomes. In fact, several of our patients were among the longest survivors of LVAD therapy in the country.
"Bon Secours is a leader in advanced heart failure management. Having the latest technology available for patients is crucial in providing high-quality, comprehensive care in all spectrum of heart failure therapies," Dr. Lietz adds.
February is American Heart Month. Learn more about the cardiology services we offer at Bon Secours.