Before leaving the hospital, it's important for babies to first have their newborn screening. Newborn screenings ensure that babies born with serious, but treatable, medical conditions are identified as early as possible before the child becomes sick. Thanks to newborn screening, serious conditions are detected in 12,500 infants every year who then go on to grow up healthy.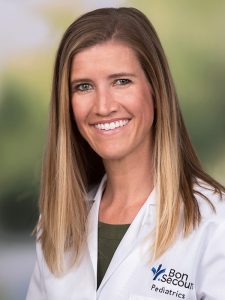 Read on as Brittany Siller, CPNP-PC, CLC, one of our pediatric nurse practitioners in our Richmond market, explains the three parts of the newborn screening process: hearing, heart disease and a blood test.
"The hearing screening takes five to 10 minutes and is a safe way to detect hearing loss. Miniature earphones are placed on the baby's ears and sounds are played. The sound's echo or the brain stem's response to sound are then evaluated to identify possible hearing problems.
As for the heart disease part of the screening, that is accomplished using a pulse oximeter. This non-invasive sensor is placed on the baby's skin to measure oxygen in blood and only takes only a few minutes. If it detects low blood-oxygen levels, the infant may have a critical congenital heart disease (CCHD).
And finally, the blood test portion is completed by collecting a small sample of blood from a heel stick. It is then sent as dried blood spots to the state laboratory for analysis. Exact conditions screened vary slightly by state.
Results for your baby's hearing and heart disease screening will be discussed with you prior to leaving the hospital. The results for the dried blood spot screening usually come back within two weeks to your child's pediatrician.
If your baby has an abnormal screening, don't panic! However, be sure to do a follow-up appointment immediately with your child's pediatrician. They will let you know if a follow-up screening, diagnostic testing or referral to a specialist is needed.
From all your Bon Secours pediatric providers, thank you for allowing us to care for your new baby shortly after birth. We appreciate your collaboration as a parent in the newborn screening program to ensure all infants can grow up as healthy as possible!"
Learn about the maternity and birthing care services we offer at Bon Secours as well as our pediatric services.