When you feel under the weather, most often your first thought is to see a doctor. However, our care teams often consist of several different types of health care providers who work together to provide you quality care when you need it.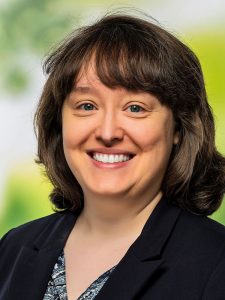 Advanced practice clinicians (APCs) are an integral part of our care teams. By working with doctors, they can help create more access for patients to get the care they need when they need it.
"We work in collaboration with physicians to provide high quality care," Elizabeth Lacy, a nurse practitioner at Woodward Medical Center, explains.
Some common examples of APCs that you may encounter at your local primary care clinic include physician assistants (PAs) and nurse practitioners (NPs). Both hold advanced education degrees and have extensive medical training.
A PA attends a three-year graduate-level program to receive a master's degree. They're licensed to practice medicine with physician supervision but can operate with independence when making decisions.
Meanwhile, NPs are registered nurses who went on to attend graduate-level, advanced clinical training. They have master's degrees and sometimes doctoral degrees as well. Many also have years of experience working as nurses before they earn their advanced degree.
"I worked in an intensive care unit and an oncology unit, both experiences that have been invaluable to me as a nurse practitioner," Elizabeth shares. "I gained experience collaborating with multiple areas of health care. All this time spent administering medications, preparing patients for imaging or procedures and assisting at the bedside helped me gain knowledge that I use every day as a nurse practitioner."
Whether your primary care provider is a physician or an APC, you can partner with them to achieve your health goals and you'll benefit from their training as well as their expertise.
"One of my passions as a nurse practitioner is patient education," Elizabeth adds. "I want to help each patient understand their conditions and work with them to help them be as healthy as possible."
At Bon Secours, we understand that the best way to help our patients is to have open communication with each of our team members, including APCs, physicians, medical assistants and office staff.
Ready to schedule a primary care visit with us today? Find a provider near you.