Live entertainment is finally starting to return to normal, and country singer Blake Shelton is using his return to the stage to recognize individuals who really make a difference in their community.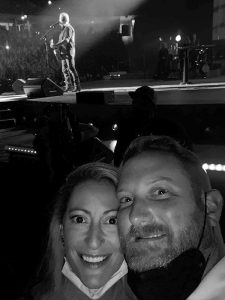 During each stop along his Friends and Heroes Tour, Blake has made it his goal to identify a local hero to recognize. During his stop at the Bon Secours Wellness Arena last week, that hero was Erin Wade. Erin is one of our many nurses serving on the frontlines of COVID-19 in the Intensive Care Unit (ICU) at Bon Secours St. Francis Downtown.
"I don't really see us as heroes, because it's our job and what we want to do – we want to take care of people," Erin shares. "I'm grateful that people in the community see us like that, but I go to work every day with the same mindset. Whether it's during the pandemic or not, my goal is to heal people and leave them better than when I got there."
Erin has been a nurse for 14 years. She says it was something she always wanted to do.
"I feel like it was just a calling. Nobody in my family is in medicine, but since I was little, I just knew that I needed to be in health care. I went to nursing school right after high school. I wanted to become a nurse because I knew I needed to make a difference. I felt like being at the bedside, working directly with these patients and with these families, was where I could make the most difference. I think that's still true now."
Erin has spent the last decade working at Bon Secours St. Francis in Greenville, SC. During that time, she's worked in various departments throughout the hospital but was moved to the ICU just before the start of the COVID-19 pandemic.
"I wanted to move to critical care, because that was always the goal when I became a nurse – to help the sickest patients and make a difference. Then the pandemic hit," Erin recalls. "Everything that happened was really tragic and very sudden."
With many years of experience as a nurse, Erin served as a mentor to her younger team members who had just begun their nursing careers. She says helping them through the struggles they faced was one thing that helped keep her going through what she refers to as the toughest time in her career to date.
"We honestly just learned to roll with everything as we were trying to learn to treat COVID… But I worked with some amazing people and we did the very best that we could, and we saved a lot of people."
To celebrate the difference Erin has made, she's received a prize pack which includes front row tickets to Blake Shelton's Greenville show. She is a big country music fan who loves Blake Shelton, so she was very excited to see him up close.
"Honestly, I was in shock when they told me. I'm very grateful – very grateful that they know how much being a nurse means to me and that they see how hard I work and how much I care…  I'm very grateful."
Read more stories that celebrate our nurses.
Also, learn about the health care services we offer at Bon Secours.