As you celebrate Veterans Day, be sure to find a moment to reflect on the meaning of this day for you and for our country. Below we have compiled a few responses from our team members in regards to the question, "What does Veterans Day mean to you?"
These team members are from all our different markets as well as from different backgrounds. Some have served in the Armed Forces themselves; others have had family members that have served. Whatever the case may be, Veterans Day is an important holiday to them. It is a day to remember, celebrate and say thank you.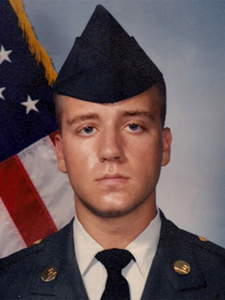 James P. Gregory III
CCU Nurse Director
St. Mary's Hospital
Richmond, VA
Military Service: U.S. Army, Combat Medic, E5 (Sergeant)
Veterans Day is a day to remember and recognize my fellow brothers and sisters-in-arms, both past and present. They put their lives on hold and on the line to protect our values of freedom, democracy, rights and privileges of our great country. All members of our armed services have sworn to defend and protect these most cherished rights on behalf of our citizens and to defend the sovereignty of our land. (pictured left)
Jessica Brown
Surgical Care Technician, Main Operating Room
St. Mary's Hospital
Richmond, VA
I have relatives, even distant relatives, who are in the military. I was a Master Sergeant in the Marine Corp JROTC. An uncle, Benjamin O. Davis Jr., was a Tuskegee Airman who fought racism and discrimination during WWII. My Great Uncle Benjamin O. Davis Sr. was Lieutenant General of the United States Army. My cousin Arthur James Gregg became the first black Three Star General in the Army. My father was a Marine and his brother is a Marine as well. Veterans Day means a lot to me because they sacrifice so much for our nation. Also, I'm very proud of my heritage and ancestry.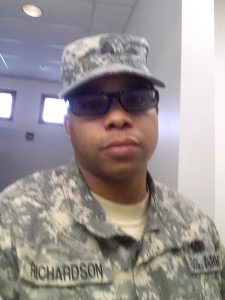 Juan Richardson
Certified Medical Assistant
AFC Urgent Care Bon Secours
Greenville, SC
Military Service: U.S. Army, SSG (R)
Veterans Day is not just about myself, it's about my fellow soldiers who came home with physical disabilities and handicaps due to combat. It's about the soldiers that have PTSD and relive the horrors of combat. It's about the soldiers that suffer silently with anxiety and depression that fight every day to find meaning and purpose in life. So, if you meet a veteran, don't just thank them. Listen to their story. (pictured right)
Sue DeLancy
Practice Supervisor, Neurology Clinic at MRMC
Memorial Regional Medical Center
Richmond, VA
Veterans Day is a day to honor the men and women who serve our country bravely so that we may enjoy the freedoms many take for granted. My father served his country proudly in the Navy and my husband in the Marines. Let us sing praises to all our veterans, here and gone.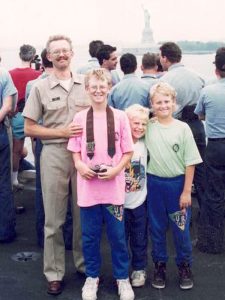 Scott M. Lull
Project Manager, EHR PMO
Hampton Roads, VA
Military Service: U.S. Navy, Lieutenant
On Veterans Day we celebrate those among us that are veterans… Veterans, no matter the age, always remember the best of times, the friends that they made and will proudly tell you a "sea story" about those friends. Sadly, some of those friends were lost.
I truly appreciate what every veteran has done for their country and their brothers in arms. It hasn't always been easy and honestly never is. I have the honor of calling many veterans as friends. It is not the color of their skin, nor gender, nor religion… they raised their hands and swore an oath. That bond that makes us who we are. (pictured left)
Melissa "Mo" Weaver
Site Specialist / ConnectCare
Ambulatory Site Specialist, Atlantic Group Training & Support
Richmond, VA
Military brat is a proud term that defines many parts of my life into adulthood. I was blessed to have a father, SMSgt Terry L Weaver, that spent his 26-year Air Force career serving others. I also had a mother dedicated to her family, making sure each place was a home. Veterans Day is the day all should pause to remember the true sacrifice of these men, women and their families.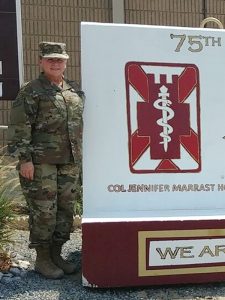 Connie Taylor
Director of Clinical Integration, General Nursing/Supply Chain
Greenville, SC
Veterans Day is an important holiday for my family. My father served 32 years in the Army, as well as several uncles and cousins with over 35 years of service. I am proud to include myself in this group.
Approximately 7% of our population are veterans and of that number, only 1.5% are female.  Military service requires strength and discipline of mind and body. It also requires sacrifice of time, the time of your loved ones, and sometimes, the ultimate sacrifice of life.
Personally, Veterans Day is a day of reflection. The Army has provided me with so many opportunities and I am proud that I raised my right hand all those years ago. (pictured right)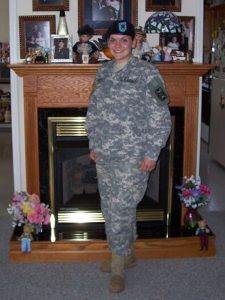 Tiyana Thomas BSN, RN
Nurse Manager, Clinical Operations
St. Francis Medical Center
Midlothian, VA
Veterans Day means freedom, honor, sacrifice and perseverance to me. Having the privilege of serving in the Army was an organic calling to do all I can to help our country. It meant being separated from friends, family and loved ones. However, it came with working towards the greater good of our nation. That same drive and passion lead me to become a nurse and I now serve our communities by the compassionate healing ministry of Jesus. I'm proud to be an Army veteran, and I'm proud to serve our patients, team members and community members! (pictured left)
Learn more about the health care services we provide at Bon Secours and find a provider near you.