Weight loss is often top of mind for Americans. Obesity is such a major health issue in this country that it's considered an epidemic.
There are a dozen different ways one can shed the pounds, none of which are easy fixes. However, the desire to slim down has become even more urgent during the current COVID-19 pandemic.
"There is a direct link between obesity and COVID-19," says Katie Nowakowski, Bon Secours St. Francis – Greenville's Surgical Weight Loss Program Manager. "Having obesity creates a higher likelihood that an individual is in a category of respiratory issues, cardiac issues, and impaired immune function, which we know all impact the severity of a COVID-19 infection. In fact, the CDC reports obesity may triple the risk of hospitalization due to a COVID-19 infection."
Nationwide, health experts are seeing an uptick in obese patients seeking weight loss surgery in a bid to protect themselves against this heightened risk.
"I felt like if I could start losing weight, then if I ever did get COVID-19, the side effects or the duration of the virus would be lesser," shares Ryan Sanders (pictured above) about his decision to not put off his weight loss surgery any longer.
The 34-year-old says he began gaining weight after college and never stopped. Despite trying diet after diet, he had reached a weight of 333 pounds and knew he had to try something new.
"I felt like surgical weight loss was… not the easy fix, but the only fix for me."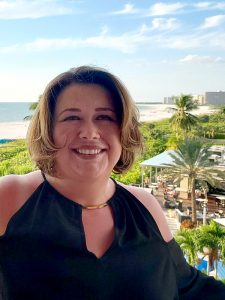 Sunny Childs (pictured left) decided the same after a similar battle with weight that had her scale sitting at 323 pounds.
"I struggled with my weight for a long time," the 41-year-old shares. "The only thing that worked was a very low-calorie diet, which was hard to maintain with the normal urges and cravings that you have. Surgical weight loss reduced my stomach, so I was able to consume that lower calorie amount without feeling like I was starving all the time."
Sunny says the pandemic also played a role in her decision to have surgery.
"You read the research and you know there's co-morbidities associated with obesity like diabetes and stuff which I personally don't have. However, I could've developed those later if I hadn't lost weight which would've been a big factor in my health overall to prevent any adverse effects from COVID-19."
Sunny has lost 42 pounds since having her procedure in late June. Meanwhile, Ryan has shed 65 pounds since his surgery, allowing him to be confident in his decision not to let the pandemic postpone his plans.
"The biggest thing to me was this is my health and putting my health as a priority was important to me… I felt with all the protocols and things the hospital had in place that chances were slim of me getting COVID-19 at the hospital. So, I went ahead with the surgery because it wasn't worth waiting until next year or whenever that may be. It was just too important for my health at that time."
Katie also shares that individuals should consider surgical weight loss if they are at least 100 pounds overweight, have a BMI greater than 35, and have failed several previous attempts at dieting.
Do you live in the Greenville, SC area? Learn more about our program and whether surgery is right for you.
Also, learn more about all of the bariatrics and weight loss services we offer at Bon Secours.