Amy Burke (pictured above with her family) is no stranger to back pain.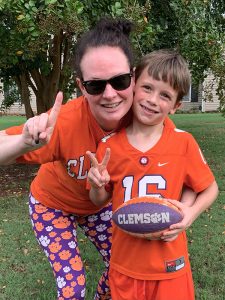 After being diagnosed with degenerative disc disease, she had her first surgery as a 26-year-old in Detroit, Mich. A decade later, her back problems would return to during what was becoming quite the busy lifestyle.
"I was trying to keep up with a very active toddler, working full-time – sort of trying to live life, but I was less active than I wanted to be due to pain," Amy explains. "Most people don't think about their spine, but literally every movement – walking, sitting, bending, lifting, twisting – everything causes pain. It really does degrade your quality of life."
Amy, now living in Upstate South Carolina, was on the hunt for a new doctor to address her progressing pain when she "coughed funny, and suddenly everything went downhill."
An ambulance ride later, she met Michael Bucci, MD, (pictured with his care team in copy) from Piedmont Spine and Neurosurgical Group.
"He came in and said, 'You're having surgery tomorrow morning,' and so I did," Amy shares and recalls the relief that followed being nearly instant.
"Almost immediately – within two weeks – once that surgical pain was gone, I definitely noticed a difference in my mobility," she adds.
Unfortunately, the relief wasn't permanent. Two years later, the now 43-year-old started experiencing problems again. Dr. Bucci recommended physical therapy in hopes of avoiding another surgery. This even inspired even inspired Amy to make some big lifestyle changes.
"Smokers have a higher risk of surgical complications and recurrent disc herniations, infections and that sort of thing," Dr. Bucci shares. "So, I stressed to Amy that she really needed to quit smoking, and she did."
Amy's symptoms continued to progress, however, with numbness becoming a complete loss of movement in her left foot.
"I couldn't walk safely or effectively, and they're telling me the same nerve that's not moving my foot is also what controls my bowels and bladder – those could potentially be the next thing to go," she shares. "That's a terrifying process, to go from being a fairly active person to your body just stops cooperating with you."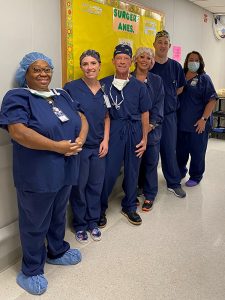 Amy credits Dr. Bucci with getting her through all of these challenges.
"He listens to you, and he wants the very best for your life," she says. "He's also very up front and transparent about the process – all of which just made me felt so seen as a person, as a scared woman who has a leg that doesn't work."
Dr. Bucci recommended a spinal fusion surgery, a fix that wouldn't be easy but that he knew would have the best possible outcome for Amy's overall health.
"She's active, young and healthy. For those reasons, we tailored her care to be a little more aggressive to take away a possibility of reoccurring problems," Dr. Bucci explains.
He also stresses the importance of being straightforward with patients about what to expect from their treatment plan.
"We as physicians may look at a surgery as being – not routine necessarily, just standard, whereas a patient may look at it as you're putting them to sleep and putting a knife in their back," he says. "That's a pretty big operation. As long as we can all understand the surgery, the process, the recovery, I think it makes for a better outcome all around."
Amy believes it was Dr. Bucci's thoughtfulness as well as the compassionate care she received from all the care team she encountered at Bon Secours that made all the difference in setting her up for success.
"He saved my lifestyle. I could not have asked for a better human and physician to shepherd me through this process – him and his staff," Amy says. "They're just so wonderfully supportive and actually care how you're doing as a person. I wasn't even in the hospital very long, but everybody was really great about making sure we were equipped both with the knowledge and the actual tangible tools we would need to be successful at home."
Today, Amy is back working full time, studying for her PhD, and living life to its fullest with her son – whether that be throwing around a football in the front yard or playing in the living room. She admits getting to this point hasn't been easy, but if you ask, she'll tell you she'd do it again in a heartbeat.
"You solidly need help for six to seven weeks after surgery, and that is difficult," she admits. "It's asking a lot of the people you love and of your village and your employer. However, at the end of the day, if that six or seven weeks means 20 more years of mobility, it is absolutely worth it."
And another benefit to surgery according to Amy?
"You just get to nap for a few hours. You wake up – you feel better, and as parents, that's sometimes the only way you're going to get a four-hour nap!"
Learn more about the spine care services we provide at Bon Secours.