Paul Kaplan started his COVID-19 journey monitoring his symptoms at home. However, those symptoms eventually became severe and it was clear he needed medical attention. This is what brought him to Bon Secours Southampton Medical Center.  
Read his firsthand thoughts on his experience here.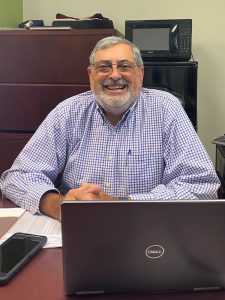 On August 3, 2020, I became sick with COVID-19. I was tested on August 4 and got my results on August 6.
The first week, I was sick at home with a high fever, headache, a terrible cough and loss of taste and smell, except for sweet foods and beverages. On August 11, my symptoms got much worse. My blood oxygen level was very low, I also had a 104° fever as well as severe shortness of breath.
My daughter insisted I go to the hospital and she loaded me in my truck. While en route, I called three hospitals. When I spoke to each facility, I described my symptoms and was told that there was a three to four hour wait to get in to see a doctor. Luckily, my daughter had already called Southampton Medical Center and was told they could take me right away.
Upon arrival, I was checked in and on an ER bed within just a very few minutes. I got an IV and was on my way to a CT scan quickly. Eventually, I was admitted with COVID-19 and pneumonia. I was told I'd probably be in the hospital for about eight to ten days.
While at Southampton Medical Center, I had the most wonderful nurses who provided outstanding care. The physicians were also excellent and checked on me regularly. I can't say enough about the level of excellent care I had while there.
I've told everyone I've spoken with how pleased I was with every aspect of my experience at Southampton Medical Center. In fact, I was able to be discharged after only four nights and five days. Thank you, Bon Secours!
Stay updated on what Bon Secours is doing related to COVID-19.