"You, sir, are my Superman."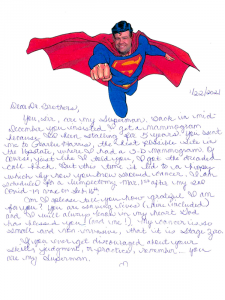 That's the opening line of a letter (pictured left) Connie Schmaltz recently wrote to her primary care provider, Glenn Brothers, DO, of Bon Secours Gateway Family Medicine in Travelers Rest, SC. She credits Dr. Brothers with saving her life by convincing her to get a routine mammogram.
"It'd been five years since I had one. I told him, 'Every time I go, they call me back and it's nothing, and it's such a pain!' Plus, I'm 70 years old, and I really thought after all this time, I don't need to worry about that," Connie says.
Dr. Brothers knew better and gave her the nudge she needed, writing her a referral to get a mammogram at the Pearlie Harris Center for Breast Health.
"I got the call back like always, but this time, it wasn't for nothing."
Connie was diagnosed with breast cancer, more specifically ductal carcinoma in situ. It's the presence of abnormal cells inside a milk duct in the breast. However, it's noninvasive, meaning it hasn't spread outside the milk duct and is considered the earliest form of breast cancer.
"It was so teeny tiny – the size of grains of sand – and I was told I never would've felt it," explains Connie. "Dr. Brothers is responsible for me being diagnosed very early – so early in fact that my cancer is a stage zero."
This isn't the first time the Schmaltz family made a life-saving discovery after a visit to their primary care office. Connie credits Dr. Brothers with also helping diagnose her husband's prostate cancer.
"I can't imagine not having a primary care provider, and Dr. Brothers has been wonderful," says Connie. "With the regular exams and lab work, he's been able to compare from one visit to the next and pick up on things."
Dr. Brothers agrees that going to see a doctor shouldn't just be for when you're feeling sick.
"I think Connie's story is a great example of the importance of having a primary care provider that knows you and looks out after your health care needs. It also shows the importance of health maintenance and routine screenings," he shares.
He also says a big benefit to having a medical home with a primary care provider is having someone to help you navigate the larger health care system when you require a more specialized level of care.
"He seems to have good connections, and he knows really good people within the system. If we didn't have him to rely on, I would just feel like I was being passed off from one person to another. With him, I feel like I can go in and talk to him about anything really," says Connie.
Learn more about the primary care services we offer at Bon Secours.
Has a Bon Secours provider like Dr. Brothers made a difference in your life? Share your story with us ahead of our Doctors' Day celebrations on March 30.