Walking is something Kathryn Mitchell has always enjoyed doing as a way of staying active. However, a growing pain in her hip had started slowing her down.
"My right hip hurt awful. I thought it was because I'm getting older, and I figured I'd probably have to have hip surgery," the 72-year-old explains. "I was even told that at one point, because the hip hurt so much."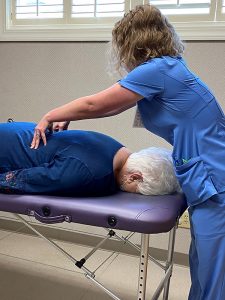 Surgery wasn't something Kathryn wanted to have to go through, and that's when she made a fortunate discovery about her primary care provider. In addition to practicing family medicine, Rachel Pruitt, DO, also offers Osteopathic Manipulative Therapy (OMT).
"Typically, OMT is used for musculoskeletal issues like back pain, hip pain, neck pain, etc. However, we are also taught lymphatic techniques that help with sinus congestion and lymphedema," says Dr. Pruitt.
By using a set of hands-on techniques, osteopathic physicians like Dr. Pruitt are able to diagnose, treat and prevent illness or injury. These providers are able to move patients' muscles and joints using techniques that include stretching, gentle pressure and resistance. In some instances, this method can complement or even replace pain medications or surgery.
"It's different than anything I've experienced before, and just doing that kind of put everything where it belongs," Kathryn shares. "It's a very gentle method – then, give it a day, and wow! I can't believe how I feel. You're able to walk all around and do things you haven't been able to do for a long time, and it's such a nice feeling."
While the practice may seem similar to what you'd get at a chiropractor's office, there are some key differences. Chiropractic adjustments are usually made to your bones and joints, primarily those of your spine. Meanwhile, OMT is a type of holistic, or whole-body, care.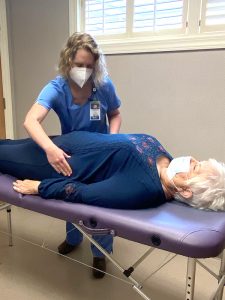 "We look at the person and all their medical conditions as a whole," Dr. Pruitt shares. "Part of that is because we have more training. However, in my role as a primary care provider, I am also aware of all their medical history and can perform additional tests if need be. I can also take care of other issues that they may need addressed as opposed to them going to different places to receive difference pieces of care,."
For Kathryn, it's a winning approach and one she wishes was more widely available to others experiencing pain.
"I wish every single doctor's office had one, because I think for older people. There are so many times we have surgery for this, that and the other thing when maybe – or at least in my case – you can just have it popped back in where it belongs. I really do think if knowledge of osteopaths was out there, people would be much more open to going and once they started going, forget it. It'd be like lightning because it makes such a difference."
The other reason Kathryn is recommending OMT to anyone who will listen?
"Insurance pays for it, making it a lot cheaper than surgeries that I may have had to do on my hip."
Learn about all the health care services we offer at Bon Secours.