During this current COVID-19 pandemic, some health care workers have had to make sacrifices when it comes to the care of their families. Out of an abundance of caution, one Bon Secours Southside Emergency Care Center (SECC) nurse sent her daughter to live with her grandparents during this time.
"With everything so up in the air with COVID-19… what my daughter really needs right now is a stable environment," shares Carly Jane Harrell, RN.
Carly been visiting her daughter, Briggs Ashby Harrell, in-person on the weekends. During her visits, she practices social distancing with both her daughter and parents.
Technology has been such a blessing during this time. It has allowed Carly to stay in touch with her Briggs multiple times each day.
"We've been doing a lot of FaceTime and it's easier for her, because I'm not there to physically say goodbye. I'm on the phone," Carly says.
Briggs even spent time making refrigerator magnets and cards for the staff at the SECC.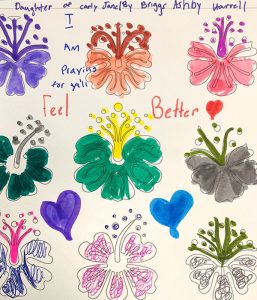 "She sees the masks and goggles. For only being eight-and-a-half years old, she is incredibly understanding about this whole situation," says Carly. "It's amazing how much she comprehends about this and what she understands. She is very creative. I'm sure she came up with it all by herself."
Carly's parents have called her a hero. However, she doesn't want to be called a hero and she doesn't like all the attention.
"I feel like everyone at some point has made sacrifices because of this," she says.
"Don't think about the bad things, think about the good things like family, pets, and babies," is Briggs advice to others for getting through this time.
Stay updates on what Bon Secours is doing related to COVID-19.