To say the weeks following the birth of her daughter were stressful for Jeski Adams is an understatement. Lyla Adams arrived two months and 11 days early with quite a few medical complications. However, Jeski credits our Bon Secours team members for caring for not only her daughter, but herself as well.
Read Jeski's personal reflection about this time in her life here.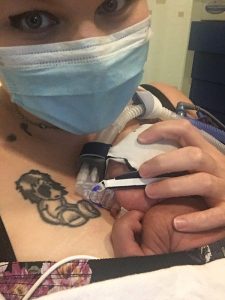 When my Lyla was born, her brain, lungs and eyes were not fully developed. She was on a CPAP machine inside an incubator that regulated her body temperature for her because she couldn't do it herself.
I didn't even get to hold her until a week into her NICU stay. During that time, the care team focused on her development challenges and then, about a month in, the worst happened. The team noticed bubbles in her intestines, necrotizing enterocolitis (NEC), as well as an infection in her blood. The fear was that these bubbles might push outside of her intestinal wall and she would need surgery. After this diagnosis, my baby was transferred from Bon Secours Memorial Regional Medical Center to Bon Secours St. Marys Hospital for more intense care.
The St. Mary's care team placed a camera on Lyla, which gave me the ability to log in and see her every day. This made all the difference. They helped me make it through when I felt like I was falling apart. Lyla didn't end up needing surgery. Instead, she tackled the NEC and they removed her CPAP. Lyla then came back to Memorial Regional Medical Center to be closer to me.
After a few more weeks in Memorial Regional Medical Center, the care team removed Lyla from the incubator too. Shortly after, they let me stay the night with her unplugged from everything and she was then safe to come home. Unfortunately, four days later her NEC returned. She ended up staying another week in the pediatric intensive care unit (PICU) waiting for it to heal.
Dr. Selvakumar, Lyla's gastrointestinal physician, spoke with me every day about Lyla since it is rare for babies to contract NEC twice. During this time, the team realized that Lyla also inherited my dairy allergy. Even after treatment in the hospital, Dr. Selvakumar insisted on seeing her outside the hospital and keeping her on his treatment plan. I just felt that was above and beyond.
Lyla's whole story is a celebration. She went from 2 lbs and 13 oz at birth to being 8 lbs and 5 oz at three months and three days old! The staff at Memorial Regional and St. Marys helped me stay sane throughout this entire process and I cannot thank them all enough. They talked to me EVERY SINGLE DAY about what was going on with my baby, where our treatment plan was pushing us and gave me realistic expectations. I have never been more grateful for a group of people. They cared for my girl, all while helping me care for myself.
Learn about the health care services we provide at Bon Secours.