Anna Bialkowski, RN, BSN, IBCLC, always knew that she wanted to help others.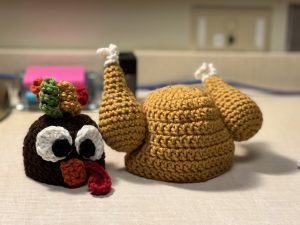 In college, switched her major to nursing from psychology after helping take care of an elderly neighbor. She then realized early on that she wanted to work in pediatrics with neonatal patients.
As of today, Anna has been with our ministry for four years now as an registered nurse in our Neonatal Intensive Care Unit (NICU) at Bon Secours – St. Mary's Hospital – the same hospital where she was born.
"No matter how long a patient is with us or how critical they may be, a NICU stay can be very stressful," Anna explains. "The most rewarding part of my job is being able to make a difference in the lives of my patients and their families while they are with us."
Outside of work, Anna is passionate about designing and creating costumes. Her love of design started in high school where her theatre teacher offered her a job working backstage at the summer shows for Richmond Shakespeare. She has been there ever since and expanded her work to include costume design.
"I love creating the costumes and the process of bringing the designs to life," Anna shares.
Then, during the COVID-19 pandemic, theatres couldn't give live performances and Anna missed having a creative outlet. For Halloween that year, Anna decided to make costumes for babies in the NICU. This gave her a new creative project and, most importantly, brought some cheer to the NICU families.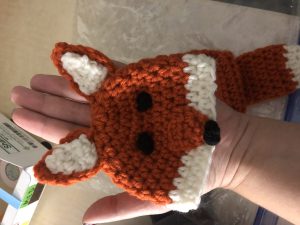 "Having a baby in the NICU around any holiday can be tough for families because it's hard to celebrate while in the hospital," Anna says. "I loved making those costumes and the response was so great that I continued to make hats for every holiday."
Anna crochets costumes in sizes that ranged from one to 15 pounds for each holiday. The costumes also align with the holiday themed footprint cards that our NICU team members makes for the parents – who then get to see their babies dressing up in a costume for Halloween, visiting Santa with an elf hat, celebrating Easter as bunnies and chicks or wearing a Star Wars hat for May the Fourth.
"We were able to give these families a moment of normalcy during what can be a very challenging time," Anna shares. "Any little thing we can do to help them have a good day, makes a huge difference in their stay."
What started out as Anna providing cute, crocheted costumes has continued to grow within the unit. Whether crocheting hats, doing footprint cards before a holiday or asking Santa (aka St. Mary's Hospital head of security) to take family holiday photos, the entire unit plays a role in creating these special moments.
"We're providing lifelong memories and keepsakes for these families," Anna adds. "Every year we're able to do a little more and provide more moments of joy for our families. It's my hope that these families look back at these items and smile at the memories."
Not only is National Nurses Month in May, but National Nurses Week is May 6 to May 12.
To all our nurses, we thank you for the excellent care you provide our patients every day! Read more of our nurses' stories to celebrate.
Also, if you're a nurse or a health care professional, we invite you to explore and pursue a career with us.