Kathe Ware is candid about what drove her decision to join the U.S. Air Force years ago.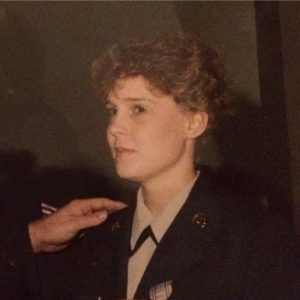 "I was young and I wanted to go to college," she remembers. "I wanted to be in the health care field and knew I would be able to serve a positive purpose, gain knowledge and help fund my education."
Kathe's resolve served her well: she became an Air Force medic and earned designation as a registered nurse, a master's of science in nursing degree, certified perioperative nurse designation and credentials as a board-certified nurse executive. Now, she is pursuing her doctorate in nursing and serves as the hospital administrator and vice president of nursing for Bon Secours – Southern Virginia Medical Center.
She credits her four years of active duty and subsequent reserves military training and experience for helping her get here.
"It gave me a solid foundation for the medical field, taught me discipline, helped me focus on a higher purpose, and it helped me fuel my passion for patient care," Kathe shares. "Starting my career in the military solidified that going into the health care field was the absolute right choice for me."
Kathe also serves as chair of a new Stars & Stripes Ministry Resources Group across our ministry of 60,000 associates and 48 hospitals. The group's purpose is to lead initiatives "to embrace our community of veterans who support and encourage each other through shared experiences, veteran recruitment, career development, professional growth and retention."
Her interest in helping other veterans derives from her own experience.
"I absolutely loved the military," Kathe says. "The sense of community, the support, the brotherhood is something you keep with you forever."
She continues, "I was honored to be a part of the military. Being able to excel in my field, achieve growth and receive some awards is something I will always look back on with pride. The entire experience gave me a foundation that I could not have gotten anywhere else."
In seven and a half years with our ministry, Kathe appreciates the similarities between the military and the ministry. She describes both as "dedication to a purpose higher than yourself."
Kathe adds, "I feel so blessed to be a part of our ministry. Daily, I get to bring my 'whole self' to work and know that what we do, without a doubt, makes a difference. I hope, even in some small way, to leave wherever and whoever I serve better than how I found them."
Thank you to Kathe and all our other veteran team members for your service to our country. Read more stories about our veteran team members.
Also, learn more about the health care services we offer at Bon Secours.