"It was kind of a fun thing to do," says Sister Fran Gorsuch, U.S. vocation director, Sisters of Bon Secours U.S.A. "Dying my hair green to help raise money to feed our neighbors – it was well worth it!"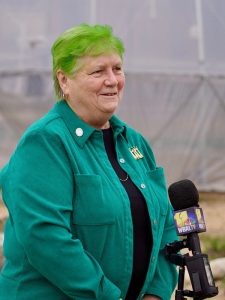 As part of National Catholic Sisters Week, Sister Fran set up a donation challenge to raise $500 in one week. To date, nearly $3,000 has been raised to benefit the Food Access and Urban Farm Program of Bon Secours Community Works in Baltimore, MD.
Sister Fran's funds will be used to grow strawberry vines on our farm. We currently only grow vegetables and strawberries are a frequently requested item by community members.
Our urban farm program currently feeds 82 West Baltimore families on a bi-weekly basis. The bags of food have a value of $20. During the COVID-19 pandemic, we sought additional funding, including from the Sisters of Bon Secours, that increased the value of the bags to $30.
In 2020, we grew and distributed 3,382 lbs. of food in addition to food we procured from other local farms and the Maryland Food Bank.
"The Urban Farm and our Food Access Program began with having conversations with the community about what they need," says Colin Smith, who leads economic development department at Bon Secours Community Works. "We try to make sure that community engagement and dialogue are ongoing and not a one-time activity."
He adds, "when we began this journey in 2017, we only planned to deliver food to families and did not have initial plans to do educational activities, create a community gathering space, or even to place food storage containers on our farm with community inspired artwork displayed on them. The farm and the delivery program have become so much more impactful because we did one simple thing – listen to our neighbors."
The program uses a three-fold approach to food access: production, distribution and education.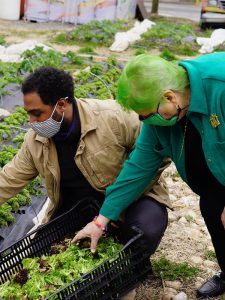 Fresh vegetables are grown on the ¼-acre urban farm located across the street from Bon Secours' Community Center. Then, the food is harvested and distributed to food insecure families in West Baltimore through a weekly delivery program and Mobile Market.
We recognize it is not enough to only provide access to healthy food. So, we also host nutrition as well as cooking courses on how to prepare the same produce that we deliver to families.
The farm represents the intersection of several social determinants of health: community beautification, workforce development, healthy food access, and a community gathering space —all of which were informed through community engagement activities.
We've transformed 14 vacant lots into a value-added space to the community, with two hoop houses for food growing year round, a nursery that will have aquaponics and hydroponics to support year-round growing and will serve as an education space for community members, a wash and refrigeration container and a temperature-controlled food storage container.
The community garden space is for community members to rent, for free, to grow food for their household while learning hands on from our urban farmer.
"This community gathering space as a place where community members can seek respite from a concrete dense, loud city environment," shares Sister Fran.
Soon, we plan to add beehives to the farm and will distribute honey to program participants. Additionally, our Clean & Green trainees learn about urban farming while maintaining the farm, which creates a workforce development opportunity for participants.
Access to healthy food and community unity were two priorities that came out of Baltimore's 2016 Community Health Needs Assessment. This farm and these programs are our direct response to what West Baltimore identified as aspects that needed to improve the health of the community.
Learn more about the community programs and services we offer in the Baltimore area.