The holidays are here and it's time for Christmas trees. For Sherry Smith, this holiday tradition is one she enjoys more than most. In fact, she's probably trimmed more trees than anyone else you know.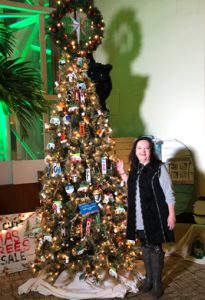 Sherry not only puts up her own family tree year after year, she's also been volunteering and recruiting local students to help decorate trees for public display for more than 30 years. Her inspiration? The Bon Secours Festival of Trees.
"When the event first started, they'd have a banquet for all the decorators," recalls Sherry. "My mother-in-law, Nancy Smith, was a Bon Secours employee at the time and got tickets for the whole family to go. I was just infatuated. All the trees were live back then, so the beautiful smell filled the entire room."
The Festival of Trees is an event hosted every December by the St. Francis Foundation. Local businesses as well as community groups sponsor and decorate trees that are then displayed in hotels around downtown Greenville, S.C. All the proceeds help benefit a different Bon Secours program each year.
The event inspired Sherry, a local art teacher, to start her own tradition. Now, her efforts have been going on nearly as long as the festival itself.
"Working alone, I wasn't able to contribute to the generous fund of the hospital program," Sherry explains. "So, I decided to make it a service learning project for my students. Our talents were used to make beautiful ornaments that would then be sponsored. This allows us to give a generous gift to Bon Secours causes through our work."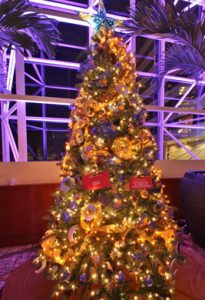 Sherry has spread her tradition to six schools over the past three decades, starting with Mitchell Road Christian Academy. More recently, she started sharing the tradition with public schools, like Mountain View Elementary who's students helped Smith decorate this year's tree. It has a camping theme and is complete with s'mores, snowmen, and license plate tag ornaments.
"I like to do fine arts with students at their level," reveals Sherry. "So, when I work with them, I use my standards to help teach them about using art to communicate a message, marketing, and even about the possibilities for careers in art."
With the constraints of school art budgets, each school has a different approach to paying for the supplies and sponsorship of the trees each year. However, Sherry says her students' excitement often brings in the extra support needed.
"It becomes a family affair and parents often respond very enthusiastically by helping cover the costs through donations," says Sherry. "We get lots of extremely positive feedback from parents who end up taking their kids to see the trees. They also love getting back the ornaments their students make each year."
Sherry hopes all this enthusiasm will keep her tradition going for at least 30 more years.
"It means the world to know I've had a part in starting something that continues even now."
Learn more about the health care services we provide at Bon Secours.