Each year about 24,000 babies are stillborn in the United States. For the parents of these children, it ends what should be a joyous time in utter and complete heartbreak.
There is no way to ease the pain that comes with the loss of a baby during pregnancy or delivery. However, the goal of the Flexmort CuddleCot™ System is to make the process of coping easier.
The CuddleCot is a cooling mattress that is placed in what resembles a bassinet to regulate the baby's body temperature, preventing color change for hours and sometimes days. This technology gives parents and other loved ones the gift of time with the baby. It allows them to bond, take pictures and make unforgettable memories all while experiencing the loss.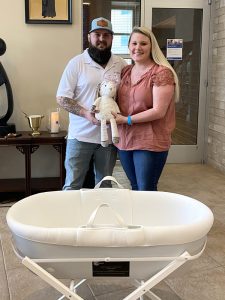 After experiencing the tragic stillbirth of their full-term daughter, Landry Reese, in June 2020 at Memorial Regional Medical Center, Karley Englehart and Tim Rufenacht were able to spend two days with her thanks to the CuddleCot. Because of this experience, they decided to pay it forward and donate a CuddleCot so that other families experiencing such tragic loss could also receive the gift of time with their child.
Karley and Time raised the funds to pay for the CuddleCot through a fundraiser they organized. Southside Medical Center was ultimately chosen as it was the only hospital in our Richmond market that did not have a CuddleCot system for bereaved families.
"After a healthy pregnancy, we got to meet our daughter, but we were heartbroken and in shock dealing with a totally unexpected loss, especially during the pandemic," Karley shares of her own experience. "We are so grateful for the two days we got to spend with our daughter thanks to the CuddleCot. We spent as much time as we could just looking at her, holding her and taking pictures to last a lifetime."
Thanks to this recent donation from this generous couple, the CuddleCot is now available at all Bon Secours Labor and Delivery Units in Richmond, VA.
Karley adds, "to any parents out there dealing with pregnancy or infant loss, do everything you can to keep their memory alive. Say their name, talk about them, or have an item you keep in their memory. We are going to keep Landry's memory alive by continuing our random acts of kindness, and we're going to keep on donating CuddleCots until someone says we can't donate anymore."
Learn about the health care services we offer at Bon Secours.