It's been 15 months since the COVID-19 pandemic began, and some believe we're finally starting to turn a corner. Case numbers are dropping, and many restrictions are being lifted as more people get their vaccines.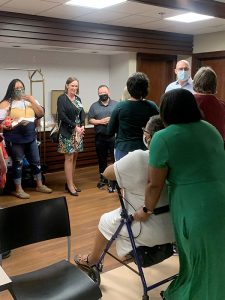 While many frontline workers are encouraged by the progress, some are still caring for COVID-19 patients. Others are simply trying to recharge and refocus after months of working long hours under stressful circumstances.
When it came time for the Bon Secours St. Francis respiratory care team to return to in-person staff meetings this month, team leader Michele Sawyer invited some surprise guests to crash the get together.
"What they've gone through… putting themselves at risk for so long for a stranger… they've impacted my life," says Don Gilmer, a patient who spent 63 days in the hospital due to COVID-19 – most of which were on a ventilator. "So, when they're tired and frustrated, I just want them to know what they do matters. That's why we're back here today – to put a smile on their faces."
Don was on hand to surprise the respiratory therapists along with fellow COVID-19 survivors Mandy Powell, Carolyn Harris and Denice Harris – many of whom were so severely impacted by this virus that they weren't expected to survive.
"Without you guys here – your staff and your team – not only would she not be here, but neither would I," Denice Harris shared during the meeting. She spent a week in the hospital before her mother, Carolyn, was also hospitalized with COVID-19 for 10 weeks.
Denice also told attendees, "you guys treated her like she was your mom, so I want to personally thank you. I know you guys are tired, but some of us appreciate you more than words can express."
Fortunately, all four patients are feeling much healthier these days and didn't hesitate upon receiving the invitation. In fact, they couldn't wait to say thank you to some of our frontline team members that they credit with saving their lives.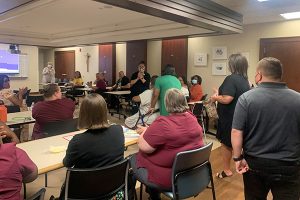 "Words – there aren't adjectives that describe it enough for the care that I received," Mandy Powell says. "They treated me like family, and with many of them, we became friends. The people here saved my life – multiple times."
The night was an emotional one, but it proved to be exactly what Michele had intended when planning the surprise.
"Just to see patients that we helped care for, that we fought so hard to save be able to walk into the door, to walk into a room … just to see a smile on their face and know that they overcame COVID-19 was just awesome!" says Jacqueline Crenshaw, one of our respiratory therapists.
Her sentiments were echoed by her team members with one person perhaps summing it up best upon the conclusion of the meeting, shouting out, "we needed that!"
Getting vaccinated for COVID-19 is the best way you can avoid severe illness and protect those around you. Learn more about our COVID-19 vaccine efforts.