While blood donations have been a priority through the COVID-19 pandemic, there is currently an urgent need to increase the available supply of convalescent plasma in Greenville.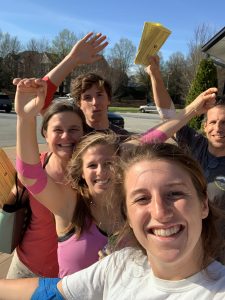 Convalescent plasma has made a significant difference in the treatment of patients hospitalized for COVID-19. Those who have recovered from the virus and have been without symptoms for 14 days or longer are encouraged to donate.
Howland Crosswell, MD, a Bon Secours oncologist, shares that donating plasma has become a family focus. His daughter, Annabel, has donated plasma on several occasions, creating the opportunity to help multiple patients in need.
"If she's donated seven times, that's almost 30 patients that she has potentially had an impact on," he shares.
Annabel, who became sick with COVID-19 in June 2020, knows what her choice to donate can mean for others.
"My blood can help save someone's life," she says.
Dr. Crosswell says it's possible that just one donation of plasma can provide treatment for up to four patients. However, plasma supply in the Greenville area has reached extremely low levels. This then limits the ability for hospitals to use this method to treat people with COVID-19.
The larger the supply, the quicker plasma can be sent to patients who need this treatment. Thus, Dr. Crosswell encourages everyone who can donate to consider their close friends and family.
"You would want them to have every option possible and that includes convalescent plasma in the right setting for the right individual," he says.
Learn more about convalescent plasma and how you can donate.
Stay updated on what Bon Secours is doing related to COVID-19.