53-year-old Berkeley Grier has worked as a nurse at Bon Secours St. Francis Health System for the past eight years. Never in a million years did she think she'd be working through a pandemic, or worse yet – becoming a patient herself.
"I never thought we'd see something like this in our lifetime. I mean, we saw years ago when people had Ebola and stuff, but we were all kind of separate from that. You see the flu, what it does. I had it about 20 plus years ago, and it was really bad, but COVID-19 was four or five times worse," shares Berkeley.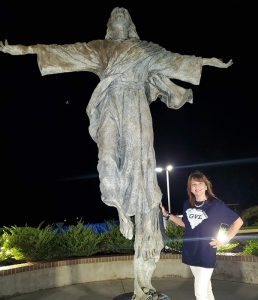 Normally serving as a nurse on the med/surg floor at St. Francis Downtown, Berkeley was one of the staff members whose job responsibilities changed once the pandemic arrived. As more patients tested positive, she floated to work on the floors where more staffing was needed for COVID-19 care.
A few months later, she went from being the caretaker to spending the night as a patient on one of the floors where she'd previously worked. Berkeley had tested positive for COVID-19, though she still doesn't know how she caught the virus.
"It could've been at work or it could've been while I was out and about in Greenville. I honestly don't know. I could've gotten it any place at any time, and that's true for anybody. You just don't know, and you can get it and pass it on to someone else without even knowing."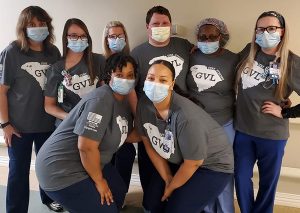 She says her symptoms started out small – just a few sniffles that made her think she was dealing with allergies. However, by the end of the week, she started feeling fatigued and had developed a fever. She started monitoring her symptoms, and after seeing how quickly her oxygen levels were dropping, she realized it was time to go to the emergency room.
"I couldn't catch my breath. You take for granted breathing until you can't breathe. As a nurse, I would never go to the hospital unless I thought it was life and death, so I really did feel that scared."
Berkeley was admitted to the hospital on Tuesday, June 23. She was there for two nights, during which time she received convalescent plasma treatment. She believes that was a huge help in getting her back home so quickly. However, she says being out of the hospital didn't mean she was out of the woods.
"My case was mild compared to a lot of what the people in our intensive care unit are going through. However, I still felt like I'd been hit with a truck and had an elephant sitting on my chest. I continued to have a fever through at least the second week of July. I remember it wasn't until about a month after I first started showing symptoms that I was able to take that first full breath of air in. To this day, I'm still working on getting my strength and endurance back."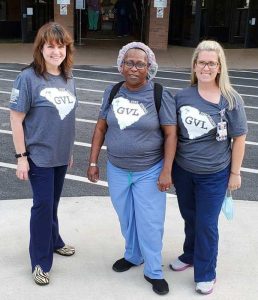 Unfortunately, the virus doesn't just impact people physically. Berkeley admits she's seen and experienced the emotional toll it can take as well.
"I've been separated from my family since 2020 began. While I'd normally have visited with all of them by now, I haven't wanted to get anyone sick. That's the same reason our hospital has had to limit guests. We're not trying to punish anyone – it's for everyone's safety. But I do feel sorry for patients who end up in the hospital with COVID-19. I was there, but not for very long, and I knew some of the nurses. These people don't know anyone, they're shut in their rooms, isolated and the only people they see are these health care workers who are covered from head to toe in full protective gear. It has to be terrifying, and very lonely. Not to mention, it's heartbreaking for their families who can't see them."
This is exactly why Berkeley is now urging people to take masking and social distancing seriously.
"I know mask wearing has becoming political, but this virus doesn't discriminate based on your political beliefs or even your age. None of us want to live like this forever, but if we can just make some concessions for a while longer… I'd much rather wear a mask than go through that again."
She has faith the community will come through, as she's already witnessed plenty of support from them this year. The community has really embraced frontline workers across the board during the pandemic, donating meals, PPE, and other meaningful items. Sometimes, the show of support is even simpler though no less impactful.
"I was wearing a nursing shirt at the post office one day, and someone thanked me for my service. It's something you think about people doing for military veterans a lot but it's not something we as health care workers hear as often. It really made me emotional, just to be appreciated in the fight, but we certainly haven't done it alone."
Stay updated on what Bon Secours is doing related to COVID-19.