When referring to the health care heroes of the COVID-19 pandemic, you often hear about doctors and nurses. However, there's another key group that is as close to the frontlines as you can get – respiratory therapists.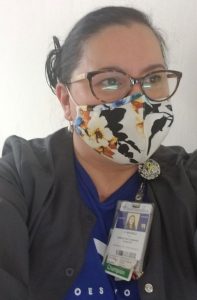 "It feels strange to be labeled heroes when we're just doing our jobs," says Michele Sawyer (pictured left), a respiratory therapist at Bon Secours St. Francis Health System in Greenville, SC. "I think respiratory therapists, nurses, doctors all feel that way – this is our job. It's what we signed up to do, so we don't particularly feel like heroes."
If you're unfamiliar with respiratory therapists, you're not alone. Michele says the profession is important but often overlooked.
"A lot of respiratory therapists begin their journey going to school to be a nurse, and they stumble upon respiratory therapy or they have experience with it. For example, they may have a child that was in the NICU or they have a loved one who has asthma or COPD, so they already know about respiratory therapy. For those that don't have any experience with it, they usually find it because they started down a nursing path and were introduced to respiratory therapy."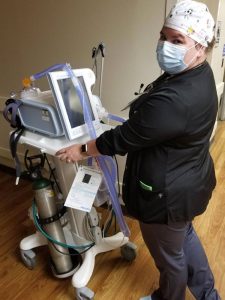 If any group was prepared for COVID-19, it was these individuals. Respiratory therapists already deal with highly contagious respiratory illnesses. The extra precautions many health care workers are getting used to were already a part of this team's regular routine.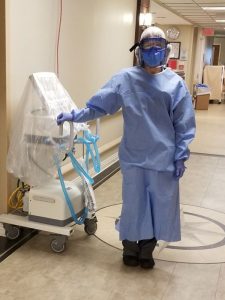 "Respiratory has always dealt with diseases that require a lot of protection, like tuberculosis for example," Michele says. "So, using protective equipment, and being cautious with our handwashing and going into isolation rooms – it really wasn't a big change for us. The only difference was seeing a lot more of it than what we're normally experiencing so it's takes a longer time. As far as the processes though, we were ready."
Respiratory therapists aren't just isolated to one area of the hospital either. They typically meet patients in the emergency room and then follow them into critical care where they help set up a ventilator if needed.
"We have the expertise in running, managing, and assessing patients using ventilators. That's our number one job – to manage those patients and help them breathe, get them off those ventilators and help educate families when they don't really know what's going on. Many times, patients on these machines can't talk for themselves. So, respiratory therapists are really an advocate for that patient."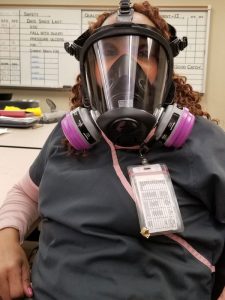 Michele hopes her profession will receive more attention because of this pandemic. She shares there has been a decrease in the number of students going to school for respiratory therapy. At the same time, a lot of the current professionals are approaching retirement.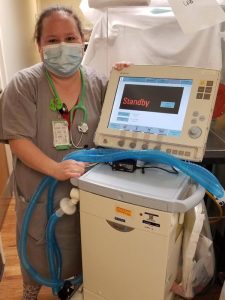 "Recruitment is going to be key in helping fill the gaps and finding people to fill those jobs. We were already looking at innovative ways to do that before the pandemic hit," Michele says. "Now, people can really see what we do. This is what we were made for and what we've studied for. So, this is a key time for us to be in the spotlight."
According to the U.S. Bureau of Labor Statistics, employment of respiratory therapists is projected to grow 21% by the year 2028, much faster than the average for all occupations.
Stay updated on what Bon Secours is doing related to COVID-19.