Dating isn't like it used to be as more people turn to the internet to find love.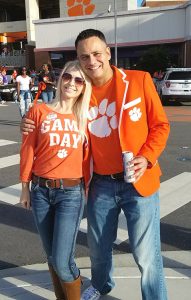 Shauna Johnson was skeptical that swiping for a soulmate would actually work. However, the universe quickly turned her into a believer.
"I had never been on a dating site in my life. I swiped past him about 50 times. Finally, something kept telling me to come back to the guy who had too much Clemson stuff in his pictures and lived too far away and had kids that were too young and all this stuff," Shauna recalls. "But there was a reason."
The guy Shauna couldn't seem to resist taking a chance on was Mike Bays. The two had what she describes as a fun first date, but things got even more complicated due to the dreaded "C" word. Cancer.
"I found out on our first date that Mike had been battling multiple myeloma for over 10 years," Shauna reveals. "I was terrified of becoming involved with someone whose future was uncertain."
Still, their chemistry was undeniable.
"I knew from the moment we met that regardless of whether things went further, she was going to be a good friend," says Michael.
The pair stayed in touch, and Michael finally convinced Shauna to go on a second date. It was then she learned he was going to his chemo treatments alone. So, she offered to tag along.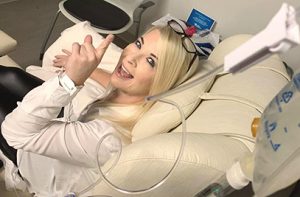 "I put my fear aside and sat with him during his last few months of treatment. I tell people we fell in love over chemo, because you have no choice but to sit there and talk," says Shauna. "… I got to know the amazing man he is, with a positive attitude towards everything including his cancer."
The couple jokes they've had more dates at the Bon Secours St. Francis Cancer Center than they've had anywhere else. Everything was going great for a few months. In fact, the two had started discussing the idea of marriage. That is when Shauna had her own health scare.
After a fainting episode landed her in the emergency room, she received shocking news. Shauna was diagnosed with lymphoplasmacytic lymphoma – an incurable blood cancer, and similar to Mike's cancer. She was obviously terrified by the news. However, having seen how Mike handled his disease with such grace and positivity, Shauna managed to do the same.
"It was interesting coming back, being in the one in the chemo chair and having him sit across the room where I had originally been. The nurses gave us funny looks upon noticing we'd traded places. So, we joke he gave me cancer," Shauna laughs.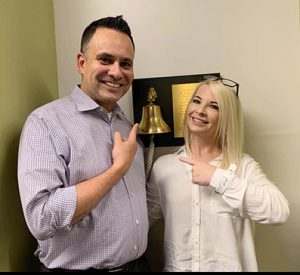 Today, both Shauna and Mike are in remission. Yet they know the odds are stacked against them with no cures having been found for the cancers they face. Regardless, the couple agrees they're thankful for their cancer diagnoses. You read that right – thankful.
"I'm with someone who I know doesn't have pity on me because I have cancer, but someone who has cancer herself and can understand and go through it," says Mike. "I didn't expect that, but that's what God gave me and it's the greatest gift I can ever have."
"It goes way beyond the cancer thing. The cancer thing just cemented that we were meant to be," Shauna adds. "I'm not a hopeless romantic but even I can go, 'Ok, I get it. This is the guy.'"
Learn more about the cancer care services offered at Bon Secours.