"Hispanic Heritage Month means to me a celebration of culture and inspiration that recognizes Hispanics and their contributions to the history of the United States."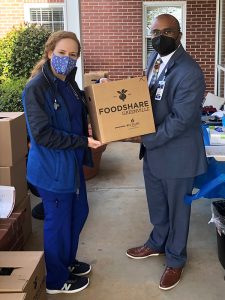 Meet Susana Hernandez, RN, BSN, a community wellness bilingual nurse! She proudly serves others at Bon Secours St. Francis Community Wellness Outreach.
"My main role is facilitating access to care, health education and other services to underserved populations in Greenville County and sometimes in other regions of the Upstate," Susana shares.
This work is done through individual in-person or telephonic consultations at San Sebastian Church, one of our wellness outreach office locations in the community.
"Also, I focus on women's health, working in close collaboration with the Pearlie Harris Center for Breast Health, the Bon Secours Mobile Mammography Unity and Best Chance Network/Bon Secours OBGYN. Together, we aim at increasing access to life-saving women's health screenings."
Another important aspect of Susana's job is our ministry's partnership with Greenville Free Medical Clinic (GFMC) dental services, Dana Parker, DMD, and other local dental resources.
"The goal is to alleviate the burden of urgent dental needs and continuity of dental care for the uninsured and underserved individuals in Greenville County," she explains.
During this post-pandemic period, our community wellness outreach program is very busy. The needs of the underserved in our local community have increased while resources are not sufficient.
"With more relaxed pandemic-related restrictions, our team is actively working in group activities geared at addressing some of these needs, such as blood pressure screenings, vision screenings, fresh produce box distribution, health education, access to care as well as chronic condition management," Susana says.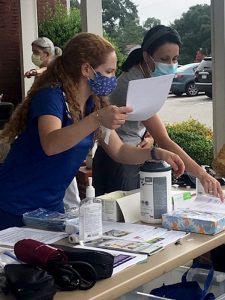 Efforts for the upcoming fall and winter season will also include local free flu vaccine clinics and education as well as support related to COVID-19.
What Susana loves most about community nursing is that it's different than being at the bedside inside a hospital setting.
"It is challenging but yet very rewarding," she adds. "It is a blessing to be able to touch so many lives in so many ways. I also really enjoy being able to communicate with Hispanic patients, as I understand the culture and personally relate to their fears, limitations and achievements as immigrants."
Susana understands because she is an immigrant herself. She came to this country from Cuba when she was 20 years old, looking for better opportunities.
"When I moved to Greenville, I did not know much English," Susana recalls. "My life partner encouraged me to go to college and he supported me in my journey. I had always loved to work and help people, so I chose nursing. I committed to studying and working hard to become a nurse. It is a blessing to be a community nurse at Bon Secours! Being bilingual has allowed me to help many Spanish-speaking patients in our community. I feel that as a nurse, I have been able to give back to the community that helped me become the person that I am today. My family is proud of me."
Susana is proud to be part of the many Hispanics living in this country, who contribute and serve in many ways to our community.
"The Hispanic culture is very rich in traditions. I love the music, food and culture in general. I want others to know that this month pays tribute to the generations of Hispanic Americans who have positively influenced and enriched this nation."
Learn about the health care services we offer at Bon Secours.