Sepsis is a silent killer – one that doesn't discriminate and is hard to detect. In fact, a recent study showed sepsis is likely responsible for one in five deaths around the world annually – more than cancer.
Sepsis is the body's extreme reaction to infection. It can cause tissue damage and organ failure, leading to amputation or even death.
"The problem is many of its symptoms can be confused with, or related to, other medical conditions," explains Brandi Giles, Bon Secours St. Francis Health System's Sepsis Coordinator.
No one knows the danger of sepsis better than Allison and Daniel Harrold.
"She had been to providers multiple times, and they all missed her symptoms," recalls Allison.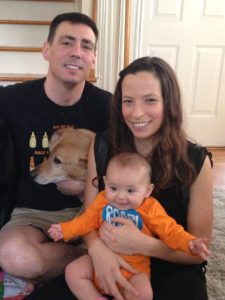 Their daughter, Clover, was just four days shy of turning 10-months-old when things went horribly wrong. The baby girl became sick with a fever that wouldn't go away. She was fussy and wouldn't eat. Despite a trip to the emergency room, the family was sent home and told to monitor her closely.
Later, Clover's leg swelled. Her symptoms also weren't responding to medicine. The couple knew something wasn't right, so they returned to the hospital, hoping for answers.
"We were just very worried and knew something was wrong. We put a lot of trust into our health care providers," Allison recalls.
The child could have been saved by the right antibiotics at the right time. Unfortunately, providers didn't realize she was going into septic shock until it was too late. Clover needed too much care all at once.
Realizing her chances of survival were next to impossible, the Harrold's made an impossible choice – to take Clover off life support. It's a choice that now drives them to encourage other parents to know the signs and symptoms of sepsis. This way, they can be prepared to bring it up directly with their doctor if needed.
"They're finally starting to use the word sepsis. Before they would call it something different – this person died from pneumonia or whatever – when really sepsis was the cause. Now they're actually saying the patient was septic and that's helping with the awareness," explains Daniel.
After their daughter's death, the couple began working with a foundation created in honor of another child that fell victim to sepsis. Their mission is to get the word out and educate both providers and parents about the dangers of sepsis.
"To remember the symptoms, use the mnemonic for TIME," explains Brandi.
T is for temperature – so if the person's temperature is higher or lower than normal.
I is for infection – because you have to have an infection for sepsis.
M is for mental decline – so confusion or agitation.
E is for extremely ill.
The sepsis coordinator at the hospital where the couple worked when Clover passed away approached the Harrold family after hearing their story. She wanted to create an award in the child's honor to help promote better care for sepsis patients.
"They were already giving out pins for excellent care in other areas like cardiac and stroke care, but they weren't doing anything for sepsis even though it's so hard to identify. We loved the idea – any way to share Clover's story and promote better sepsis care is wonderful," says Allison.
Now, the couple lives in the Upstate. They have a 2-year-old son, named Ives, and they're more determined than ever to share his sister's story.
As Daniel's new employer, Bon Secours St. Francis was honored to debut a new award to spotlight sepsis awareness. Erika Handley, a RN working in the St. Francis Downtown Emergency Department (pictured above), was honored this month with the first ever Clover Award.
The award is peer-nominated and recognizes Erika's willingness to champion and educate others about the signs of sepsis so it can be caught early, potentially saving lives. As a winner, Erika received a pin, shaped like a four-leaf clover, to wear on her badge in Clover's honor along with a note from the Harrold family about the significance of her contribution to fighting sepsis.
"As a parent that lost a child, we always worry people aren't going to remember her because she's not here. So, having something in her memory means a lot to us, but it also means a lot to us to do anything to improve sepsis care to prevent this from happening again to us or to anyone," Allison shares.
Learn more about the health care services we offer at Bon Secours.