It's a silent killer – one that doesn't discriminate and one that is hard to detect even by a well-trained health professional. In fact, studies show sepsis kills about 1 in 5 affected people, making it one of the deadliest conditions in the world.
Sepsis is the body's extreme reaction to infection. It can cause tissue damage and organ failure, leading to amputation or even death.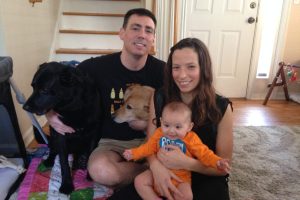 "The problem is many sepsis' symptoms can be confused with, or related to, other medical conditions," Megan Julian, sepsis coordinator at Bon Secours St. Francis, explains. "We're having to continually evaluate our processes and review cases to learn and improve in our fight against it."
No one knows the danger better than Allison and Daniel Harrold. Their daughter, Clover, was just four days shy of turning 10 months old when things went horribly wrong. The baby girl became sick with a fever that wouldn't go away. She was fussy and wouldn't eat. Her symptoms also weren't responding to Tylenol and Motrin.
Unfortunately, providers didn't realize she was going into septic shock until it was too late. She needed too much all at once and her chances of survival were next to impossible.
It was devastating for the Harrold family, but they've managed to use their tragic loss to help save others by creating the Clover Award.
"As a parent that lost a child, we always worry people aren't going to remember her because she's not here," Allison shares. "So, having something in her memory means a lot to us, but it also means a lot to us to do anything to improve sepsis care to prevent this from happening again – to us or to anyone."
The peer-nominated award honors any provider that identifies the signs of sepsis quickly, allowing time for life-saving treatment. Each winner receives a pin, shaped like a four-leaf clover, along with a note from the Harrolds about the significance of their contribution to fighting sepsis. Oftentimes, the couple also attends the award presentations.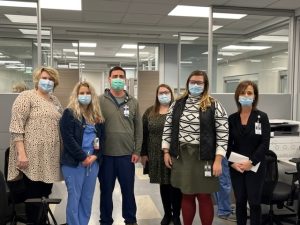 "We think it's impactful for Clover's parents to be there, and I think our presence makes the impact more real for the recipients," Daniel says. "We like to personally assure them of the difference they made in someone's life. As health care workers, we may view some of what we do as simply doing our jobs, but our decisions can be life and death for the people we care for."
Our Greenville market adopted the Clover Award in October of 2020 after Daniel came to work for our ministry. Now, it's spread throughout our whole health system, with hospitals throughout Virginia and Ohio also now using the awareness-based award.
"We were very excited, as it has been our goal to increase the number of hospitals across the U.S. that implement the Clover Award, and this was significant progress toward that goal," Daniel adds. "We obviously think the more attention we can bring to sepsis, the more lives that will be positively impacted. It is also deeply meaningful for us to have Clover's name used on the award. In all honesty, nothing can make losing Clover to sepsis any better. However, hearing her name and knowing others know she existed brings more peace to us."
While there is no single test for sepsis, there are warning signs to watch for. To remember those symptoms, use the mnemonic device for TIME:
T for temperature: Is it higher or lower than normal?
I for infection: You have to have an infection for sepsis.
M for mental decline: Take note of any confusion or agitation.
E for extremely ill: From there, medical attention is needed immediately.
"We sincerely hope the Clover Award and our daughter's story makes a difference and brings more attention to sepsis," Daniel shares. "In our personal experience, we were surprised at the lack of awareness of the presentation of a severely septic patient, so we think taking an awareness approach does not underestimate or assume our health care teams' knowledge or experience of sepsis. I also think there are still other ways to improve, including listening to patients and their family members and coming from a place of caring and compassion."
Learn more about the emergency care services we provide at Bon Secours.