Finding out you have cancer is a huge blow. Now, imagine having to go through your treatment plan during a pandemic.
"It's been a very interesting journey," shares Terri Gaines, 61. She is an office manager at Bon Secours Upstate OBGYN who started her cancer treatment earlier this year.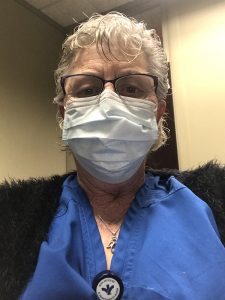 "Being immunocompromised, even before COVID-19 started, I always was careful with handwashing and making sure I wasn't around folks that were sick. Still, I never thought anything about walking into my local grocery store. Now, even those simple things … I don't go out of the house without a fresh mask and hand sanitizer in my pocket. My family has also gotten very protective about me not doing things I don't need to do."
Terri has been forced to make big changes to her daily habits as a result of the pandemic, especially given that her disease places her in the high-risk category for COVID-19. As a result, Terri is also facing new hurdles when it comes to her treatment plan.
"It's scary. I'm used to having my family with me, but now they have to drop me off. You walk into the Cancer Center alone, and you're easily there five to six hours."
Following the onset of COVID-19, most hospitals including Bon Secours facilities began implementing visitor restrictions to help protect patients, staff members and communities. Despite going through chemo appointments by herself, Terri says the Bon Secours staff has really helped make sure she never feels alone.
"Other than having to get your temperature taken and answering questions before going inside, you'd never know anything was up. The staff is always kind, but during this they've really gone the extra mile. It helps keep that sense of calm and is very reassuring."
Despite not being able to stay by Terri's side during this portion of her journey, her tribe was still able to find ways to support her.
"One of my biggest supporters met me in the parking lot that first day I had to go in alone. She had a bag of goodies for me that included gifts and cards from other friends and prayer warriors, because she knew it was going to be tough."
Terri's loved one also knew about another milestone moment that she would miss due to COVID-19 – the bell ringing ceremony to mark the end of her chemotherapy treatment.
"It was a day I began planning in my mind back in January. I wanted to have my family, my life-group, my co-workers, my prayer warriors, my nurse navigator and even my oncologist, Dr. Grabska, there with me to celebrate the day. Instead, the reality on that Friday was I was going in alone again and there would be no celebration."
Terri's nurse offered to let her ring the bell and record a video to share with her loved ones back at home. However, she decided to not take a video, saying it didn't feel right to ring it without her tribe in tow.
"I was sad. I was disappointed, but looking at the big picture with COVID-19 – there are people dying, and their families can't be with them. I told myself, 'You still get to walk out of here to someone in your family, picking you up. It's not what you wanted, but it's part of the journey. It is what it is for right now. This is my reality.'"
Terri remembers being a little down on the ride back home to Easley, SC with her son. Little did she know, her family and friends weren't about to let such a big milestone pass by without some proper pomp and circumstance.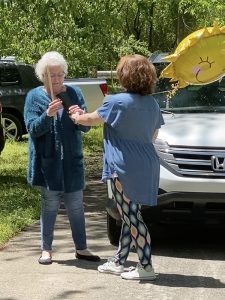 "We turned into the driveway and there they were – more than a dozen people maintaining social distance as they lined either side of our driveway. They had balloons and posters. I was just amazed by all these people that cared enough to take a Friday afternoon to welcome me home and celebrate this leg of my journey being over."
Then came the moment Terri had been waiting for. Her friend handed over a large cow bell and a drumstick so she could finally ring in the end of her chemotherapy.
"They knew what it meant to me to ring that bell. I could barely see, I was crying so much. We rang the bell that day, and I could not have done it without those folks. It meant a whole lot for them to care enough to do that."
Terri is now undergoing radiation, and she'll continue to get Herceptin treatments every three weeks through January. She's confident her support system will continue to get her through the ups and downs despite any visitor restrictions.
Terri is even already making plans for her next big milestone – the end of treatment.
"On January 9, 2021, we are going to have a party in the parking lot of the Cancer Center. I don't care if there's snow on the ground. We are going to have a party in the parking lot."
Learn about the breast health and mammography services available at Bon Secours.