They say it takes a village to raise a child. Building and relying on the village begins way before the delivery room, though.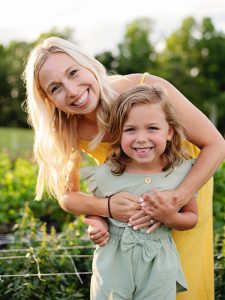 Every child is different. Every birth is different. Every breastfeeding journey is different.
This is something Stephanie Fisher, a breastfeeding educator at Bon Secours St. Francis Eastside, knows well and takes with her to every new patient she meets.
"My role as a breastfeeding educator is to come alongside new moms to support them in latching, breastfeeding and providing nutrition for their babies," she explains. "I also counsel them through common or more complex lactation issues and teach a monthly basic breastfeeding class for parents. Our lactation staff meets daily with each of our breastfeeding moms to assist them with learning to get a good latch and nutritive feeding at the breast."
Like many educator roles, Stephanie's day-to-day responsibilities can really morph and shift to meet her patients where they are – as well as who they see for care more regularly.
"My team and I provide lactation education to our mother/baby nurses as well," she shares. "Some of our team members even do outpatient lactation visits to follow up on how babies are doing after leaving the hospital, including feedings and weight."
Patience, understanding and persistence are all key traits of successful educators.
Before joining the lactation team at St. Francis Eastside, Stephanie had a role that really prepared her in the patience category – she worked in pediatrics.
"The outpatient world led me to pursue an inpatient lactation job here almost eight years ago, where I have been fortunate to learn hands-on and expand my knowledge from my experienced colleagues," she says. "Participating in global lactation conferences has also allowed me to learn from a diverse group of lactation consultants on a wide variety of cultural issues and more complex lactation issues."
When she's not coaching a new mom at the bedside, Stephanie brings her vast knowledge to a larger group.
"We do a monthly breastfeeding class to help prepare families," she shares. "For moms with gestational diabetes, we have a program OBs can refer you to called the prenatal expression program (PEP) that helps mom learn to collect their colostrum in syringes prior to baby coming. We are also available 365 days a year for our families to call for lactation assistance or get lactation questions answered."
It is the constant challenges and ability to see progress that keeps Stephanie going.
"Breastfeeding is natural, but it can be tricky at first for mom and baby to learn and get the hang of," she explains. "But when a mom is given sound lactation information and support, she is better empowered to make her own feeding decisions and reach her own feeding goals."
And Stephanie always keeps a mindset of understanding that every situation is different.
"Becoming a parent requires a fast-learning curve," she says. "Being allowed the privilege of meeting and helping new parents learn the world of breastfeeding before and after baby arrives is an honor. I enjoy getting to know parents and their babies in their own unique way and assist them in working toward their breastfeeding goals."
But, just like it takes a village to raise a child, it also takes one to prepare for the child.
"We have an incredible lactation and mother/baby nursing team at St. Francis Eastside that I am very proud to be a part of," Stephanie shares. "We communicate well, help one another out when busy, and genuinely enjoy learning from each other and being in each other's company. This is the best place I've ever worked by far!"
Learn more about the maternity care as well as the breastfeeding classes we offer at Bon Secours.