Cindy Steeves, APRN, CNP, a nurse practitioner with Palmetto Pulmonary and Critical Care in our Greenville market, has been interested in medicine since she was a young child.
Growing up in the small farming town of Bedford County, Va., she always played "doctor" on her dolls and pets. When she was 10, her grandmother was in the hospital with cancer and found herself fascinated with the hospital and nurses. This love for helping others grew throughout Cindy's childhood and teenage years, leading her to nursing school and an early career as a charge nurse, ICU preceptor and earning a critical care registered nurse (CCRN) certification.
However, it wasn't until her first child was born in 1993 and spent time in the NICU that Cindy was first exposed to nurse practitioners. Soon after, she went back to school to become one.
While earning her degree, she worked in the cardiovascular intensive care unit and worked closely with physicians at Palmetto Pulmonary. When Cindy graduated, Palmetto Pulmonary offered her a job, where she has been since 1996. She still recalls a piece of advice she was given in the first few months there.
"Dr. Laurens, my collaborating physician and mentor, reminded me more than once that I needed to LOOK at my patients rather than rely on equipment," she says.
But in December of 2016, everything changed. Cindy found what she thought was a lump in her left breast, which turned out to be just a cyst. However, a few months later, in March of 2017, follow-up imaging showed a lump in her right breast.
This time, it was correct – a biopsy confirmed that Cindy had breast cancer.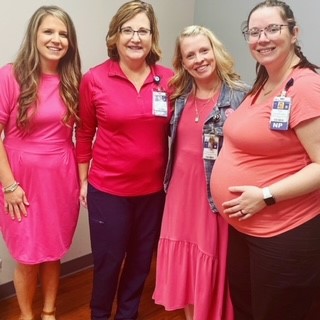 Having spent years of her career as the provider, Cindy was now on the other side as a patient, receiving treatment with a team of Bon Secours hematology and oncology doctors. She recalls that she was nervous about seeing doctors that she worked with regularly, but never felt uncomfortable with them.
Being diagnosed with cancer leaves an indelible mark on anyone's life. For Cindy, that mark was also made on her professionally.
"I could relate to my patients on a different level. I knew firsthand how the words, 'you have cancer' changed a person's life."
Cindy was declared cancer-free later that year in September and celebrated her five-year anniversary in September of 2022 with her team members in the office, where they hung banners, wore pink and served cake in her honor. Cindy says it's a great day that she will always remember.
Although breast cancer left her with extreme fatigue for a while and the pandemic further complicated things, she began to feel well enough early in 2023 to take on a new challenge: palliative care.
"Our clinic has an embedded palliative care program," she says. "I have been interested in the program since its inception, but the timing was not right for me to go back to school for it."
Eventually, that time came, and Cindy enrolled in the post-master's certification program, which she is expected to complete in early 2024 and sit for the certification exam afterward.
"The (palliative care) program has opened my eyes to many ways that I will be able to use my training in pulmonary medicine," she says. "The training itself aligns with my personal mission to provide compassionate care to every patient as part of the healing ministry of Jesus Christ."
Cindy likes to spend the free time she has traveling with her husband, visiting her children and grandchildren, taking long walks and raising dogs, specifically doodles.
Although cancer-free, it still has an effect on Cindy's life. This time, it's in her work.
"From the moment that I was told I had cancer, my life and my practice changed forever," Cindy says. "The compassion that was demonstrated to me over and over again transformed me into a better nurse practitioner."
It's APP Week! To all our advanced practice providers, we thank you for the excellent care you provide our patients every day!
Also, learn more about the lung care and pulmonology we provide at Mercy Health.