Earning a degree in nursing, like any education, can come with an expensive price tag. However, scholarships can help relieve the burden on health care workers hoping to make a difference in their careers.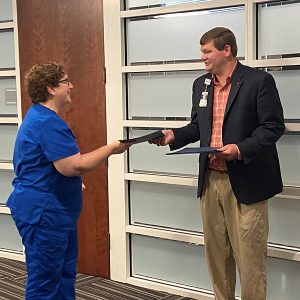 The Winkler Nursing Education Scholarship is one of those scholarships hoping to help.
It was created in 2019 by Ed and Hope Winkler, and it's awarded annually by the St. Francis Foundation to anyone pursuing a registered nursing degree or higher, whether they work for Bon Secours or not.
"Your education is something that is so powerful," Erik Whaley, president of the St. Francis Foundation, shares. "You're striving to pursue excellence in education and to serve others. When you think of the field you're pursuing or getting started in – there's nothing more beautiful than that."
Congratulations to the five women who a committee selected as the 2022 recipients:
Audrianna Cureton
Jennifer Mason
Cari Ann Nazario
Elisabeth Nyounge
Danielle Tchapwa
They'll split the $10,000 award for a total of $2,000 each. Audrianna, Elisabeth and Danielle are pursuing a Bachelor of Science in Nursing (BSN) at the University of South Carolina – Upstate, while Cari Ann is doing the same at Clemson University. Meanwhile, Jennifer (pictured in copy, right) has already been working as a nurse for 27 years. Her goal is to become a nursing instructor, so she's pursuing her master's degree to make that dream a reality.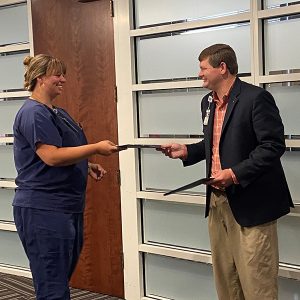 This is all exactly what the Winklers hoped for when creating the scholarship, and this year they got to hear more stories of how their generosity is impacting others during a special awards luncheon hosted by the St. Francis Foundation.
"We are just pleased as punch to be able to give this scholarship every year, and we are so excited to meet the winners this time! We see names, but we seldom get to see faces," Ed shares.
It wasn't just the 2022 recipients the Winklers got to come face-to-face with. All the previous winners – including Sarah Handal – were also invited to the luncheon. Sarah (pictured in copy, left) chose nursing because she wanted to help people in their most vulnerable moments.
"The Winkler Scholarship was awarded to me in 2020, right after COVID-19 was causing our town to go under a stay-at-home order," Sarah recalls. "I was at the beginning of nursing school and found myself without a job. I picked up random shifts on COVID-19 floors, but it was not enough to support my educational needs. This scholarship allowed me to continue nursing school when classes resumed."
Sarah adds that she is in her last semester of nursing school and has already accepted a job offer.
"I am so grateful to the Winklers for their generosity and support for the future of nursing."
To learn more about the Winkler scholarship and other financial assistance awards in our Greenville market, visit the St. Francis Foundation website.
Also, learn more about our Bon Secours Foundation.