Bon Secours has become the first health system in Upstate South Carolina to introduce TEG® 6s, a new cutting-edge technology. It aids in guiding transfusions during bleeding events and assessment of clotting conditions. This equipment also provides faster, more efficient treatments for patients that experience these conditions.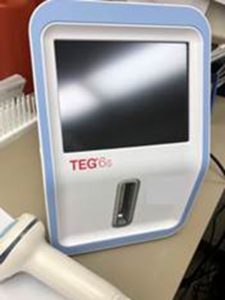 We began using the TEG® 6s in June. It has helped clinicians pinpoint exactly what is causing a patient to bleed and provides them with information about what specific blood products are needed to help make the bleeding stop.
This equipment is paired with web-based software which allows doctors to review results in real-time, right from the operating room. This way they are able to make actionable decisions within 10 to 15 minutes, instead of waiting 45 to 60 minutes for standard laboratory testing.
"Previously, in the time it would take for the physician to get this information, the patient's condition could have completely changed," shares Amanda Locotosh, blood bank supervisor at Bon Secours St. Francis Health System. "Therefore, they'd make the best educated guess as far as blood product therapy. Sometimes this would mean a massive transfusion in which you're transfusing a combination of all products to attempt to control a bleed. Now with this new equipment, we know very quickly what the patient needs, which allows us to use our blood product supply wisely."
For example, a massive transfusion may include red blood cells, fresh frozen plasma, cryoprecipitate and platelets. However, a patient may only need one of those. TEG® 6s can help determine which is needed so the hospital only uses what is necessary.
Additionally, this equipment can help prevent complications during surgery by allowing providers to identify and correct any potential bleeding issues before a procedure even begins. For instance, patients preparing for open-heart surgery who are on anti-platelet drugs must typically wait about seven days before being cleared for surgery to ensure the medication has left their system.
"TEG® 6s can help the clinician identify if the medication is gone before the standard seven days and take their patient to surgery as soon as the testing deems it safe to do so," says Amanda. "This helps decrease the patient's length of stay in the hospital and gives the clinician the reassurance that it is safe to take the patient to surgery without any increased risk of bleeding."
Blood and blood products are an incredibly precious resource, especially during COVID-19. To obtain these resources, we must rely solely on voluntary donations from community members. Since blood donations have decreased during the pandemic, it makes this new technology even more of a game changer.
"Implementing this technology at Bon Secours St. Francis Downtown allows us to conserve and target blood/blood product therapy, gives our clinicians the most timely and informative results and provides our patients with the best treatment possible," Amanda states.
Learn more about the health care services we offer at Bon Secours.