When health emergencies happen, getting help fast can be the difference between life and death.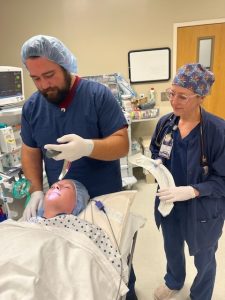 This is why EMTs and paramedics are so crucial. They not only provide quick transport for patients in need, but many times, these first responders are also able to begin care immediately, before the patient even arrives at the hospital.
Because of this, our ministry jumped at the chance to partner with Greenville County Emergency Medical Services (EMS) on its new paramedic program.
"It's giving us a much better working relationship," Van Browning, anesthesia director at Bon Secours St. Francis, explains. "Rather than just having them drop off patients to us, we're getting a better feel for what they do and how we can better work together to serve the community and our patients."
Following the success of its EMT Academy, which debuted in 2021, Greenville County EMS decided to launch a paramedic training program.
"There is a nationwide shortage of paramedics, so we thought it'd be good for us as an organization to support our EMTs as they transition to paramedics," Phil Head, director of clinical services for Greenville County EMS, shares. "We were able to develop the program in conjunction with Lowcountry EMS, and then partner with St. Francis on getting our students into a clinical learning environment."
The year-long training program consists of online courses, in-person labs to reinforce that education and clinical rotations at the hospital. It's the latter that instructors say is key to preparing these up-and-coming paramedics for the emergencies they may encounter in the field.
"The amount of hands-on experience and physical skills that go into things, such as intubations, bag valve mask ventilations, airway insertions, pharmacology – the instruction has been fantastic," John LeBlanc, clinical education specialist for Greenville County EMS, says. "They're getting so much experience doing these things that will go downstream to benefit patients later. It's very cool."
Currently, paramedic students are doing rotations in our emergency department, operating room, labor and delivery unit as well as our NICU, cath lab and dialysis clinic.
Now hospital team members say it's been great to watch the real-time results of passing on their knowledge to the next generation of people, looking to provide good help to those in need.
"It's amazing to see the transition between the first day and even just when they come back the second day," Van adds. "They feel very comfortable, and it's been a pleasure being a part of it. Our staff just loves it, and we're very thankful for the opportunity."
And Greenville County officials couldn't agree more.
"Our primary goal is to have students learn and develop, but we also want to improve our relationship with the St. Francis Emergency Department and be service-oriented, working with them, helping them," Phil shares, adding that he believes this goal has been achieved.
He continues, "it's about developing and strengthening those relationships. When we show up, they're excited to see us, and they want our students to learn. I think we have succeeded tremendously in that venture."
The paramedic training program is sponsored by Greenville County, meaning the cost of training and any additional materials needed for the course are paid for by them. Trainees are also paid as they go through the instruction. Learn more about this program.
At Bon Secours, we also offer training and education opportunities to our team members as well as those hoping to become the next generation of great healers. If you feel called to serve, learn more about the careers we have available.