September is National Ovarian Cancer Awareness Month. Johnathan Foote, MD, with Commonwealth Gynecologic Oncology at St. Mary's Hospital, shares some highlights of the latest advancements in ovarian cancer research and management.
What is ovarian cancer?
Here are some quick ovarian cancer facts.
Ovarian cancer incorporates not only ovarian cancer, but also fallopian tube and primary peritoneal cancer.
The lifetime risk of developing ovarian cancer is approximately 1.3 to 1.7 percent.
Approximately 20 to 25 percent of ovarian cancers are related to inherited genes, namely BRCA1 and BRCA2, and a few others.
The importance of knowing your family history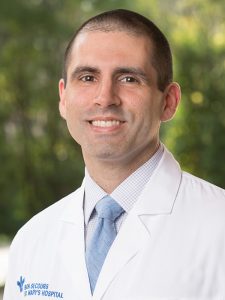 There are also another 20 to 25 percent of ovarian cancers that have a tumor-specific gene alteration rather than an inherited mutation, which is known as a somatic mutation. These patients are similar to patients with a BRCA1 or BRCA2 mutation, because their tumors behave similarly, although they didn't inherit a mutation from their mother or father.
For these reasons, the Society of Gynecologic Oncology recommends that all patients with ovarian cancer undergo genetic counseling and genetic testing.
"As genetic testing improves, it is more important than ever to know your family history," Dr. Foote says. "This is because the guidelines regarding genetic testing in the general public will continue to change in the coming years and may become more accessible in the primary care setting."
New drugs are improving outcomes
The good news is that in the last three to five years, ovarian cancer research has flourished. Dr. Foote shares that this is specifically in a class of drugs known as PARP-inhibitors (poly-ADP-ribose polymerase inhibitors).
This type of drug has introduced the age of targeted therapies in ovarian cancer. Initially, these therapies were only available to patients with recurrent ovarian cancer and who had an inherited BRCA1 and BRCA2 mutation or a similar tumor-specific mutation (somatic mutation). However, these therapies have now become the standard of care in upfront maintenance therapy for BRCA1/2 ovarian cancer patients. In some cases, their indications have expanded to include any ovarian cancer patient. Overall, PARP-inhibitor therapies have improved survival outcomes.
"My only hope is that other similar targeted therapies will yield similar results in the future, so that ovarian cancer patients live longer and that there are more ovarian cancer survivors," Dr. Foote shares.
Dr. Foote received degrees from Hampden-Sydney College and the University of Virginia School of Medicine. He completed his residency at the Medical University of South Carolina and a fellowship in gynecologic oncology at Duke University Medical Center. Today, he focuses on medical and surgical management of patients with ovarian, endometrial and cervical cancer and has contributed to numerous research studies, publications and presentations.
Additionally, Commonwealth Gynecologic Oncology at St. Mary's Hospital is the most comprehensive cancer treatment practice of its kind in the region. Our dedicated group isn't just recognized for top-level care by the area's medical community. We're recognized by patients throughout central Virginia for delivering that care in an extraordinarily personal and reassuring way.
Learn about the ovarian, uterine and cervical cancer services we offer at Bon Secours.
Also, additional ovarian cancer resources are available via Foundation for Women's Cancer as well as the Centers for Disease Control and Prevention.