This month marks the return of at least one live sport: NASCAR. The drivers returned to the track in Darlington, SC with the Heroes 400: NASCAR Cup Series this past Sunday, May 17.
As one of the first professional sports leagues to resume competition among the COVID-19 pandemic, NASCAR used its comeback event to honor health care workers through the "Real Heroes Project." As a part of this project, the names of each driver on each car's driver-side window were replaced with names of individuals currently caring for patients on the front lines of this virus.
For Bon Secours, that included critical care nurse Stacey Anne Wilson (above left) from Bon Secours St. Francis Downtown in Greenville, SC and intensive care unit nurse Michelle Vaughan (above right) at Bon Secours St. Mary's Hospital in Richmond, VA.
Michelle, BSN, RN, was selected for the honor after coming up with a creative way to keep COVID-19 patients and their loved ones connected despite visitor restrictions. Through a project called "Be There Bears," family members record a message for their loved ones over the phone. Michelle then places the recorded message inside a stuffed animal, which is given to the patient for them to listen to it anytime.
"Getting to put the bears in the arms of the patients, I was overcome with pride and happiness to know that my patients might be able to feel their families' presence. It's so important, not only for our patients to feel the love and support of their families, but for us, as nurses, to feel connected to our patients and their families as well," Michelle shares.
Michelle's name took the place of FedEx racing driver Denny Hamlin's #11 car, which finished fifth in Sunday's race at Darlington Raceway. Meanwhile Stacey Wilson's name replaced Reed Sorenson's name on the #77 car.
"When they first told me I'd been chosen, I was working so I didn't really have a chance to let it sink in. Once I got home and was able to digest, I realized how awesome it was and I got very excited. I'm proud to represent Bon Secours. It's a great place to work," says Stacey.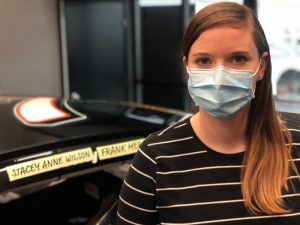 Stacey began working at Bon Secours in 2017, after graduating from Clemson University's School of Nursing. She's expected to graduate with a doctorate in nursing from the University of South Carolina later this year. Stacey shares that her passion for the field of medicine began at a very early age.
"My mom loves to tell the story of how she knew I was destined to be a nurse. The school librarian apparently called my parents one day, asking if someone in our family was sick. When they told her everyone was well, she said she was just concerned because I was the only first-grader she knew who was interested in checking out books about the heart and brain!"
In addition to Stacey's name, the Spire Motorsports No. 77 car also showcased the Bon Secours logo. Spire Motorsports owns Greenville's professional hockey team, the Swamp Rabbits, and decided to let both the team and Bon Secours, as their presenting sponsors for 2019-2020, share the prime placement.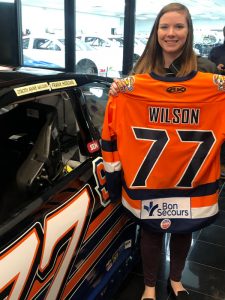 "The Swamp Rabbits are thrilled to partner with Bon Secours and Spire Motorsports to salute health care workers who answer the call during these unparalleled times," explains Swamp Rabbits president Todd Mackin. "We have a unique opportunity to highlight the amazing and selfless work we're seeing across the health care industry."
In addition to having their names displayed on race cars during the televised event, Stacey and Michelle also served as grand marshals for the race, appearing in a montage to give drivers the command to start their engines.
You'll get another opportunity to see the tribute on Wednesday, May 20, with another race at the legendary Darlington Raceway. The 400-mile race will take place under the lights beginning at 7:30 p.m. EST. FS1, MRN and SiriusXM NASCAR Radio will be carrying the race live.
Learn more about the health care services offered at Bon Secours.